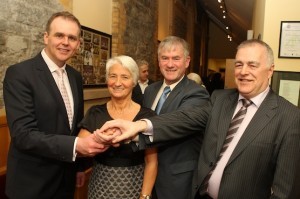 Fine Gael local election Candidate Grace Boyle has welcomed the news that Deputy Joe McHugh, TD, has raised the issue of the ongoing challenges in the beef sector with Minister Simon Coveney.
These challenges are seriously affecting farmers in the Milford-Letterkenny electoral area and Donegal in general, she said 
While Deputy McHugh welcomed and acknowledged the very good work that Minister Coveney did during the CAP negotiations, in securing €12.5 billion up to 2020, he explained that things have since moved on and there are real and genuine concerns in the farming sector that need to be addressed.
In their meeting, Deputy McHugh outlined the massive decline in the suckler herd. They also discussed the bull beef crisis and the market place in it's current form. While the Minister cannot involve himself directly in the market, there is a perception amongst farmers that processors are influencing prices too heavily. Adding to this issue is the absence of the Northern buyer at our marts and not being able to take animals across the border to finish, both impacting negatively on the market.
Deputy McHugh said that, "while it's important to acknowledge that the price of beef is up 30% on three years ago, it is still down substantially on last year's prices and with increases in costs, this is adding further pressure on the farmers".
The Minister called a meeting today with the various farming organisations, including the processors, in an effort to engage with all parties relevant to this issue and discuss a way forward. According to Grace Boyle, "Engagement of this type is absolutely necessary so that the interested parties can voice their concerns to the Minister and engage positively with him to try to find a solution. I welcome this news and will follow up the matter with Deputy McHugh again soon".
Tags: