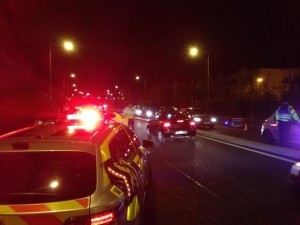 BREAKING NEWS: GARDAÍ have targeted drink drivers in Donegal as part of a nationwide crackdown.
The Mandatory Alcohol Testing Checkpoints – part of Operation Surround – have been taking place over the past few hours in Donegal Town with Gardaí on every route into and out of the town.
It follows similar operations in Buncrana and Ballybofey in recent weeks.
Officers are also targeting other areas of the county with patrols.
They say the emphasis of these checkpoints is to target and intercept intoxicated drivers through the use of Mandatory Alcohol Testing, by surrounding specific locations in each Garda Region.
The Donegal Town checkpoints took place earlier.
Assistant Commissioner John Twomey, Garda National Traffic Bureau, said: "In the first three months of the year, a total of 1,926 drivers have been arrested on suspicion of drink driving. The vast majority of drivers act responsibly and don't mix driving with drinking alcohol.
"However nearly 2,000 drivers so far this year have behaved in a totally irresponsible manner. Drink driving is totally unacceptable and we will continue to intensively target these selfish drivers who think that it won't affect their, or others safety on the road.
"All members of An Garda Síochána are out all around the country, day and night, targeting intoxicated driving."
Assistant Commissioner Twomey went on: "Even if you don't meet a checkpoint, you could still be breath tested if you run a red light, enter a bus lane, speed, or if you're involved in a road traffic collision. Never take the chance, it could prove very costly…the least of which are penalty points, a fine or the loss of your licence. If you're drinking alcohol, forget about driving.
The Mandatory Alcohol Checkpoints involve Traffic Units and Regular Units from each Garda Division across the country.
Assistant Commissioner Twomey reminded those celebrating this weekend to allow adequate time before driving again.
See the Morning After campaign page on drinkaware.ie. This page explains the definition of standard drink and the length of time it takes the body to eliminate it.
http://www.drinkaware.ie/hints-tips/the-morning-after-time-is-the-only-cure/
Tags: