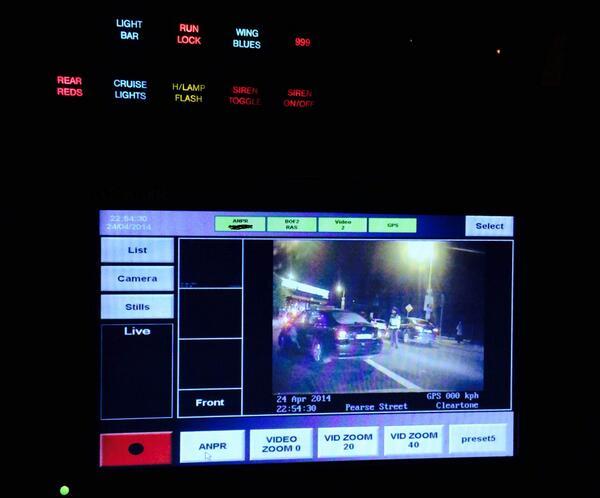 GARDAÍ have deployed unmarked cars and are using new technology across County Donegal today as part of a road safety drive.
Several Garda teams are on duty today as part of a bid to end the dangerous practice of some motorists driving whilst using mobile phones.
But officers – who have detected 60 drivers breaking that law since yesterday – are also checking for other offences.
One van driver stopped for using his phone whilst driving was found to have no tax and no insurance either.
Gardaí are using the latest technology to check vehicles without tax and insurance. The system can tell officers straight away if a car being driven on the road has proper insurance cover.
The unmarked vehicles are being used as back up to marked patrol cars with officers also part of the road safety drive.
Motorists phoning and driving face €60 fines and 2 penalty points.
Traffic Corps Inspector Michael Harrison said: "All gardaí on patrol today are checking for breaches of the law.
"The use of a mobile phone whilst driving is extremely dangerous. Research and surveys have shown this."
Assistant Commissioner John Twomey, Garda National Traffic Bureau said: "We all know how distracting mobile phones can be in any situation, , except in the car it can have fatal consequences.
"Driving requires 100% concentration – it's as simple as that. In the first three months of the year nearly 10,000 drivers have been detected holding a mobile phone whilst driving. This is not acceptable or conducive to road safety. The choice is yours. To avoid penalty points, a fine or worse, be involved in a road traffic collision, always put the phone away when driving."
Effects of mobile phone use on driving performance:
There is a four-fold increase in the risk of having a road collision when using a mobile phone. What makes a mobile phone so dangerous when used in a vehicle?
Use of mobile phones while driving – Effects on Road Safety
Mobile phones distract driver in several ways:
1. Physically: instead of focusing on the physical tasks required by driving (e.g. steering, gear changing), drivers have to use one or both of their hands to manipulate the phone.
2. Visually: mobile phones could visually distract drivers in two ways:
− Firstly, drivers have to move their eyes from the road and focus on the mobile phone in order to be able to use it.
− Secondly, while talking on a mobile phone, even if drivers' eyes are focused on the road, they 'look but do not see'.
3. Auditory: the focus of drivers' attention moves from the road environment to the sounds of the mobile phone and the conversation. This particularly applies when the sound quality is poor.
4. Cognitively: instead of focusing their attention and thoughts on driving, drivers divert their attention and focus on the topic of the phone conversation (Dragutinovic & Twisk, 2005)
Tags: