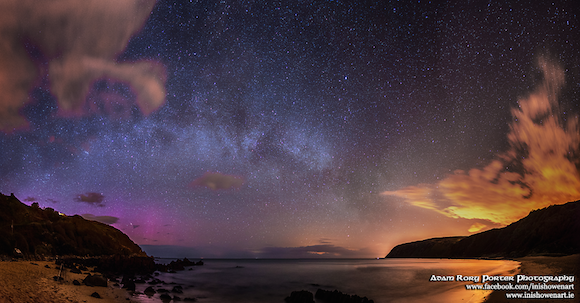 DONEGAL photographer Adam Rory Porter has done it again – with another sensational snap of our sky at night.
And this time he managed just about capture a hint of the Northern Lights above Inishowen, with the Milky Way in all its glory.
Said Adam: "I was out and about last night near at Kinnego Bay.
"I was a nice surprise to see the Northern Lights, a wee hint of them on the horizon as the edge of the Milky Way was rising over the North Atlantic."
Adam is a member of the Buncrana Camera Club which has brought stunning images of Inishowen and the rest of Donegal to a massive worldwide audience through their incredible snaps – many of the Northern Lights.
"We're not doing too badly for a wee group set up just four years ago," said Brendan Diver the club.
"There was a dozen of us with an interest in photography and we began to meet up in O'Flaherty's pub in Buncrana every Tuesday to talk about our passion.
"We go outdoors at least once a fortnight as a group and picture what we can. When the Northern Lights turn up it is always special for us."
Looks like we're in for a decent weekend (apart from the first half of Saturday).
Here's our weather report:
https://www.donegaldaily.com/2014/04/25/glorious-mainly-the-dd-weekend-weather-report-with-the-mount-errigal-hotel/
Want to find out when the Northern Lights will be back
Follow this:
Tags: