It may be a small Donegal school but it is going big places in national competitions.
Cloughfin N.S., situated in a rural setting between Ballindrait, Castlefinn and Raphoe, might be a small two teacher school but this has not impeded them from excelling in two national competitions.
Pupils and staff were thrilled to hear that their school's website has once again been shortlisted for the Eircom Junior Spider Awards for the Best School Website category.
There are only seven primary schools from all over Ireland that have been shortlisted in this category. Pupils will attend the Awards Cermony in none other than Google's European Headquarters in The Foundry at Google in Dublin on Tuesday the 29th of April.
Principal Fiona Farry said "Pupils are so excited at the prospect of traveling to this spectacular venue. It will be an amazing experience for them. Our school website www.cloughfinns.com showcases the huge amount of hard work and dedication of the pupils and staff in our school. We are the only primary school in Co. Donegal to be shortlisted and are delighted to hear that a group of students from St. Eunan's College (post primary school) in Letterkenny have also been shortlisted for their project in the Best web design category http://www.optimalf1.com/ "
But wait, there is more. 5th and 6th class pupils have also topped the polls in a National Maths Competition for the months of February and March and are currently in pole position overall as the end of the challenge approaches on May 16th. TD Joe Mc Hugh presented them with there Mathletes Cup for winning the National February Challenge.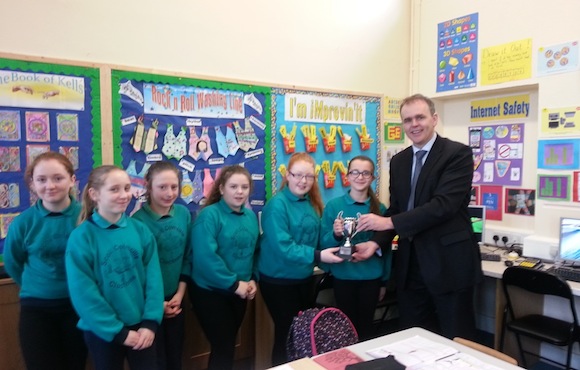 http://www.mathletes.ie is the brainchild of Junior Minister for Education Ciarán Cannon and Sean O Sullivan, Sos Ventures and former Dragon on Dragon's Den (RTE) and is supported by the Department of Education and Skills. Mr. O Sullivan tweeted the following " Sean OSullivan @sosventures
Biggest little underdog Primary School in #Ireland @MATHletes_ie Cloughfin NS in Lifford, Co. Donegal http://mathletes.ie/leaderboards-schools-march/ … #Superhuman "
Pupils master maths skills online using Khan Academy in school and at home. It is amazing to see how much time they spend learning maths at home and even during the school holidays! http://www.independent.ie/business/technology/khando-approach-rips-up-the-rule-book-on-learning-by-rote-30193088.html
If the students retain their overall lead on May 16th, they will be presented with their award and a grant to purchase technology for their school at the eXCITE Global Digital Learning Conference, in Dublin on May 31st. http://www.excited.ie/
Great see the Donegal Flag flying high again at National Level!!
Http:/www.cloughfinns.com or follow the school on Twitter @CloughfinNs
Tags: