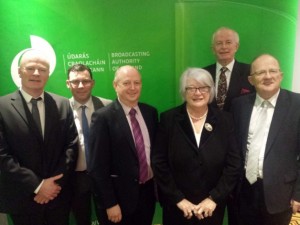 THE company which once ran Ireland's most successful radio station says it can make it a profitable franchise once again.
Coast FM, owned by Mid-West Radio and who once had the franchise to cover south Donegal as North West Radio, has taken part in its latest bid to unseat Ocean FM from the radio dial.
Both stations made pitches at a public hearing in Sligo yesterday.
Former Donegal footballer Martin McHugh is among those backing the Coast FM bid.
In its submission Coast FM said it had turned had profits of €970,000 during its 14 years as the franchise provider.
However since Ocean FM won the franchise in controversial circumstances a decade ago, it has recorded losses of €765,300.
It also said market share levels have slumped from an average of 51% in 2003 when North West had the license to just 29% in 2013 under Ocean FM.
Coast FM claimed a "serious disconnect" has occurred between listeners in Sligo, North Leitrim and South Donegal in its local radio station in the last ten years.
The new group says its primary objective is to provide a broad-format radio service targeting all adults with a particular focus on those over 25.
It will also have an emphasis on "what's Irish and local" and will implement "urgent and remedial strategies to increase listenership."
It plans to share relevant programming with Mid West Radio which it also owns, saying this worked well when North West Radio was on air.
For its part Ocean FM says that what it is doing today "is the optimum mix" and "right for the tastes and interest of our audience."
It says it is the smallest local station in the country but its commitment to high-quality content has made it one of the most decorated.
Ocean said it wanted to diversify its business to include new digital media.
The submission lists the 24 shareholders of North West Broadcasting Ltd which trades as Ocean FM.
More than 85% of the shares are held by eight individuals.
These are: Padraig O'Dwyer (23.5%) of Letterkenny, CEO of River Media; John Keon (6.19%), Ballyshannon businessman; Ocean FM CEO Tim Collins (14.64%); Car dealer Martin Reilly (14.78%); Pat Clifford of Clifford Electrical (11.75%); Sean Grant (5.84%), a lecturer and consultant from Letterkenny; Tony Porter (4.23%), chartered accountant from Rosses Point; Noel Shannon (4.27%) from Newbridge, Communications Manager with Irish Water.
Tags: