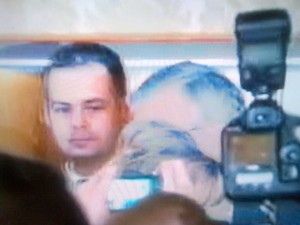 DONEGAL Sinn Fein TDs Pearse Doherty and Padraig MacLochlainn are in Belfast tonight as Gerry Adams was freed from police custody.
The Sinn Fein President was arrested on Wednesday and quizzed about the 1972 murder of Jean McConville.
At a press conference in Belfast, Mr Adams again said he was innocent of any involvement in Mrs McConville's murder.
He said there was a "malicious" and "sinister" campaign against him.
Deputy Doherty and Deputy Mac Lochlainn sat at the press conference alongside Mary Lou McDonald, Martin McGuinness and Martina Anderson.
Mr Adams said he was committed to peace and offered his condolences to the McConville family, saying he had no involvement in the killing.
He said the IRA was gone, and republicans were committed to peace.
He accused those behind the Boston College tapes of being against Sinn Fein and their strategy.
Tags: