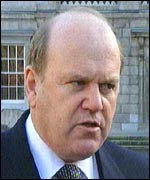 Sinn Féin Finance Spokesperson Pearse Doherty TD, responding to the announcement by Finance Minister Noonan concerning a new mortgage deposit scheme, has said the Minister was veering into dangerous territory with an ill-thought out policy.
The Government has been looking at using mortgage deposit insurance as a mechanism to kick-start house building, particularly in Dublin.
Under the scheme, the State would arrange insurance cover for part of the deposit currently sought by banks from first-time buyers
But Donegal Deputy Doherty said the Government is pursuing a potential future mortgage debt crisis, while failing to deal with the current mortgage debt crisis.
Deputy Doherty said: "In the lead–up to the 2007 general election, Sinn Féin was the only party to stand back from the melee of voices in Fianna Fáil, Fine Gael, Labour and the Greens calling for bubble type policies such as stamp duty being reduced so more people could buy overpriced houses and get themselves into unsustainable debt.
"The Minister has proposed a mortgage deposit protection scheme for a coterie of first-time buyers. The scheme is developer, not buyer led. A similar scheme was introduced in Britain, which is seeing rising house prices of on average 5% per year.
"The scheme is dangerously close to initiatives taken in the boom, when people who could not afford huge mortgages were given 100% loans that are now mill stones around their necks.
"It may be a scheme which benefits banks and developers, but if a couple is on average earnings, banks should not be lending to that couple irresponsibly. If that couple ends up in mortgage distress, will the Government be as unhelpful to them as they are to people currently in mortgage distress?
"The answer to the housing and construction crisis lies in a holistic approach of social and affordable house build, along with infrastructure development. It also lies in ensuring that wages reflect the cost of living and jobs are secure.
"On the one hand, the Government is pursuing a rising house price policy, on the other hand it's saying wages must be kept low and driving areas like zero hour contracts. They are also cutting people's disposable income with higher taxes and service cuts. The policies are incompatible and have no strategic outlook.
"I am conscious that we are days away from an election and the Government is desperate to attract voters who may also be looking to buy homes. But this is too important to announce on an election whim and to be stuck into an extensive piece of finance legislation at the end of the year, where it will be buried along with countless other measures. This is something that needs due debate and proper consideration."
Tags: