The third staging of the county championships took place on Saturday 17th in Jameson's Bar, Drumkeen, and it was Irish international, Shaun Sharkey from Dungloe, who came through the 30-strong field to take the prestigious title.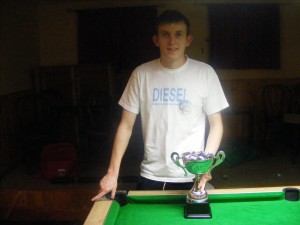 Shaun Sharkey beat Shane Faulkner from Donegal town 7-2 in the final.
In fairness to Shane, he found it hard to get going in the final after some heroic performances, coming from 5-1 down against Joe Gallagher in the last 8 to win 6-5 and performing a similar feat against Oisín Ó Domhnaill in the semis, where he won the last four frames for another 6-5 victory.
Shaun was the best performer throughout the day but in the early rounds Johnny Connors produced a masterclass to beat Tony Mulhern 5-0 and he was many people's favourite at that stage.
David Moore, the defending champion, wasn't about to relinquish his title easily, though, and produced a classy display to beat Johnny 6-4 in the quarters.
David then raced into a 3-0 lead against Shaun in the semis, before Shaun produced the best pool of the day to reel off 6 on the trot – which was some feat against a player of David's calibre.
The final wasn't as exciting as the semis – once Shaun established a lead it was always going to be hard for Shane to claw it back, especially given that his form had dipped a bit, and Shaun ruthlessly punished every mistake that Shane made.
Last year's beaten finalist was definitely a worthy winner on the day.
Tags: