Tir Chonaill AC Notes
Karl Griffin, continued his preparation for the World Junior U20 championship, with another exciting 800m run in Watford on Saturday night.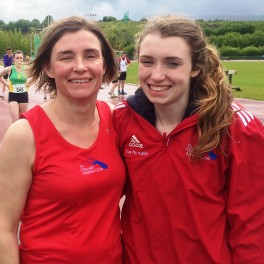 The British Milers sponsored event which attracted all the top middle distance athletes from across Europe found the eighteen year old Donegal Town man running in the 'B' 800m race and returning very happy with his time –another B standard for the World Juniors – and performance.
Karl continues his build up and competes in Belgium this weekend. Result 1 1:49.45 Andreas Roth U23 Norway; 2 1:49.80 Karl Griffin U20 Tir Chonaill / Ireland; 3 1:51.10 Tom Watson U23Central / Edinburgh Uni / Forth Valley
Local Donegal Schools perform at Ulster finals
Well done to all the local schools athletes who performed so well on Saturday last in the Ulster finals at the Antrim Forum. 
The following were medal winners from Magh Eine, Bundoran, Christopher O'Donnell 1st Inter Boys 200m-22.95sec/2nd, 100m -11.78secs from Scoil Colmcille, Ballyshannon, Clara Herron, 1st U17 Shot 10.98m NR; Eva McMullan 1st U17 300m 42.32secs ;
Robbie Kelly, 1st U15 1,200m Walk 6mins.05.2 secs from St Catherine's, Killybegs Daniel Gallagher 1st U17 1,500 S/C 4mins 42.6secs and 2nd 1,500m -4mins 14,7secsand Dylan Kearns, 2nd U15 Javelin, 43m
from Colaiste na Carraige -Caoimhe Byrne,2nd U17 P.V. 2,15m
from Abbey Voc., Donegal Town Senior Girls 4 x 100mrelay team 1st 50.90secs, Ciara Crawford, 1st Senior Walk; Kate McGowan 1st Senior 400m Hurdles 64,8secs;Kelly McGrory 2nd Senior 400m H 65secs; Katie Hoad, 2ndSenior PV 2.15m; Jessica Quinn, 3rd U17 Walk. Abbey Voc. also won the Senior Girls 'Queens University Cup' as winners of the Senior Girls relay.
Many more athletes were placed in the top six – a great achievement at this level.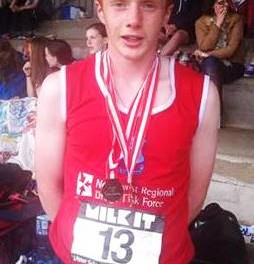 Congrats to all and best wishes in the All Ireland Schools finals in Tullamore on Sat 31st May and thanks to schools/teachers for supporting the young athletes at what is rightfully described as the largest, most inclusive, and best organised Track and Field event in Ulster athletics calendar.
Paul Ward finishes 3rd overall in River Moy Half Marathon
Congratulations and well done to the large group of club athletes that competed in the River Moy Half Marathon last Saturday and came home with numerous PB and category winning performances/prizes. Paul Ward's performance was impressive.
He finished 3rd overall and 1st in the M40 category in an excellent time of 1hr 16mins and 48secs.
Other prize winners included Gerry McManus, M50 Category winner,1hr 29mins 53secs., Paddy Donoghue,2nd M60 Catagory,1hr 39mins 43secs.,Anne Donoghue, 1st W55 and Bernie McNeely. 2nd W55.   
Performance details
Paul Ward M40 116.48 3rd Overall and Cat winner, Gerry McManus M50 1.29.53 Cat winner, Mark McGowan M40 1,36.59,Noel Hoey M45 1.39.37,Paddy Donoghue M60 1.39.43 2nd Cat, Gerard McCafferty M45 1.43.09, Sinead McGowan W40 1.46.48, Brian McMullan M45 1.47.49, Sonya O'Connell W45 1.48.12, Loretta Cullen F45 1.49.36,Kay Drummond F45 1.49.38, Ann Donoghue F55 1.49.46 1st Cat, Bernie McNeely F55 1.49.55 2nd Cat, Deborah Dawson W35 1.53.48, Eileen Ward W40 1.54.33, Richard Orr M45 1.55.36. The race had 446 finishers.
Well done to club members Philomena Gallagher 22mins41secs, Marie Rooney, 22mins.41secs and Jackie Harvey 23mins39secs who travelled to Aghayarn on Friday night for the very well-run and supported Gemma Run 5k.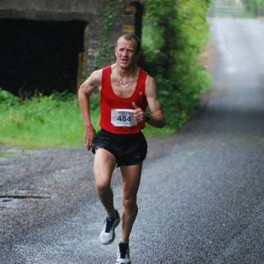 Next local Donegal Grand Prix event takes place in Donegal Town on Fri evening 30th May -7.30 start. A flat, fast course – the place to run a PB – see you there
Barry Quigg and Conal Mahon on Irish Universities team
Congratulations to Tir Chonaill athletes, Barry Quigg and Conal Mahon, who were selected early this week on the Irish Universities team for the upcoming Varsity International in Edinburgh on the 31st May.
Congrats and well done to both on this fine representative achievement and to Coach Doherty. Conal and Barry are students in NUIG and will compete in High and Triple Jump
Exciting National League performances
Clun captains David Doherty and Jackie Harvey will be happy with Tir Chonaill team performances in Sligo on Sunday last. The overall placing's after Round 1 which was held at Waterford and Sligo finds Tir Chonaill in 5th overall position – from 16 teams – and having a realistic opportunity of a final eight qualification for the Division 1 final when Round 2 scheduled for the end of June is complete. The women's team participating in the Premier Division were not at full strength but never the less end up in 14th overall position. A full squad turn out on Day 2 will find them moving up the table and a possible top eight and final qualification finish.
The individual results are not to hand and will be published next .The meet, not favoured by summer weather, had a number of notable club performances. Geraldine Stewart, travelled all the way from Kildare and gained maximum points in the Shot Putt –over 12 metres and Discus .Mother and daughter Julie and Eva McMullan gained valuable points in the 3k and 200/400m. The men had a list of very good performances – including wins for Barry Quigg, High Jump, Christopher Doherty, Pole Vault, Caolan O'Callaghan, Triple Jump and Daniel Gallagher S/C
Grand Prix Road Race
Tir Chonaill AC will host the annual Donegal Grand Prix 5k in Donegal Town on Fri evening 30th May -7.30pm start. Registration from 6pm in the Abbey Voc Gym. A flat, fast and user friendly course plus hospitality for all –see you there
Tags: