Ireland West Airport Knock, were delighted over the weekend, to welcome another first for the West of Ireland with the arrival of Germanwings inaugural flight from Cologne in Germany.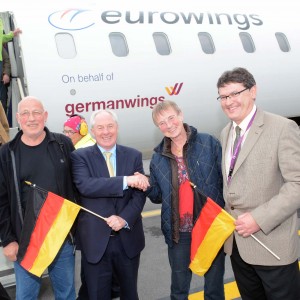 Germanwings, which is wholly owned by Europes largest airline, Lufthansa, will operate direct flights to and from Cologne-Bonn every Saturday until the end of October.
Connecting services to their expanded network of over 80 destinations worldwide will also be bookable as part of the new service.
From Cologne/Bonn airport the cities of Cologne and Bonn are only 15 minutes away with both Dusseldorf and Frankfurt also just 90 minutes away.
More than 200,000 Germans visit the West and North West of Ireland every year and they can now avail of direct access to the heart of the West on Germanwings only service to this part of Ireland.
With the service expected to bring in the region of 2,000 German tourists, generating a spend in excess of €1,000,000 for the West and North West regions.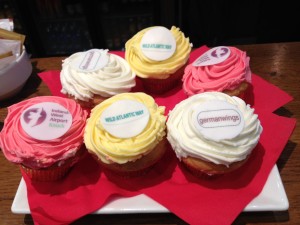 Accompanying passengers on the first flight from Cologne were 4 key journalists from some of Germanys biggest media organisations, who will be taking part in a 4 day familiarisation trip around the West of Ireland, taking in the 'Wild Atlantic Way' during their stay.
Welcoming passengers off the first flight, Joe Gilmore, Managing Director, Ireland West Airport Knock added "We are absolutely delighted to welcome Germanwings first ever service to the West of Ireland.
"This new service is a major vote of confidence for this airport and indeed the wider region and we look forward to welcoming German tourists to this beautiful part of Ireland.
"In fact on the first service was a group of 18 German tourists who were spending five nights in a combination of hotels in the Castlebar and Letterkenny regions as well as visiting various landmarks and attractions around the West and North West.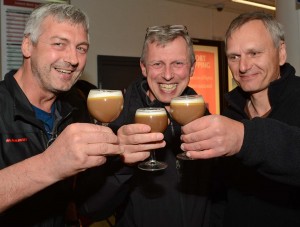 "We hope that accommodation providers and attractions in the region continue to be major beneficiaries of these new flights for the summer season.
Also present at the airport today to greet the first German visitors on the new service was Minister of State at the Department of Transport, Tourism & Sport, Michael Ring TD and he added, "I'm delighted to welcome the first passengers on the new Germanwings service from Cologne today to the West of Ireland, which is another positive development in 2014 for the airport and the region.
"Last year was a record year for German visitors to Ireland with over 475,000 German visitors to these shores.
"It is no secret that Germans love the product on offer in this region and this new direct service will further enhance our profile in Germany and furthermore highlight the airport as the premier international Western gateway for the Wild Atlantic Way, which has massive potential to bring more visitors and more jobs to rural communities right along the western seaboard
Flights from Ireland West Airport Knock to Cologne-Bonn will depart every Saturday at with fares starting at just €79.99 one way, until the end of October.
For further airport information log onto www.irelandwestairport.com; and for information on fares and to book flights log onto www.germanwings.com.
Tags: