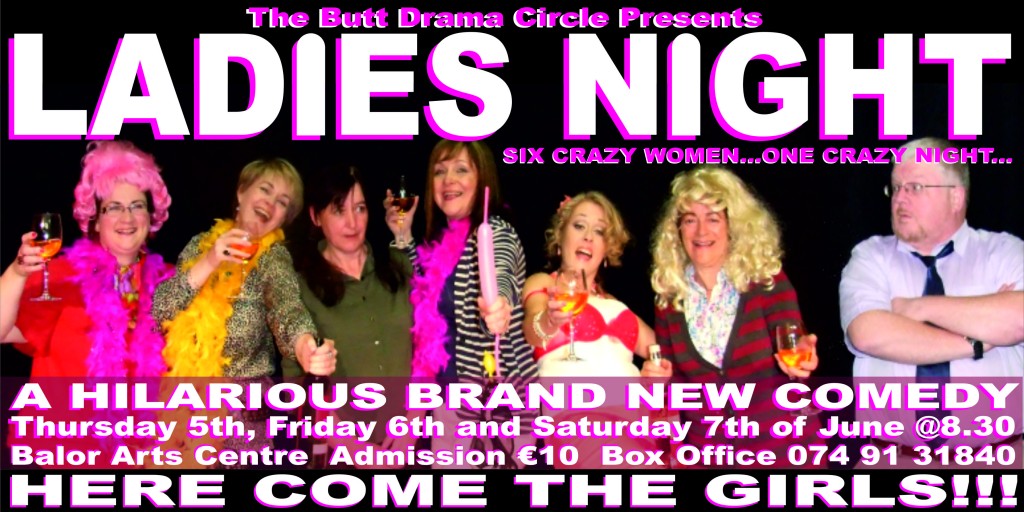 Ladies… Did you ever want to know what goes on and comes off at a lingerie party?
Gentlemen… Did you ever want to know, but were too afraid to ask?
Well things look certain to be hotting up at the Balor Theatre in Ballybofey next week when The Butt Drama Circle's brand new hilarious comedy 'Ladies' Night' takes to the stage.
This newly written comedy takes us on a hilarious no holds barred journey through one very hot summer night…
The story follows Linda as she decides to organise a lingerie party in an attempt to lift her spirits and maybe help revitalise her flagging love life. But, unlike the weather, the party atmosphere is pretty cool until she cracks open a bottle or two of wine for her less than enthusiastic guests…
Under the influence of more than just a few glasses of vino collapso, tongues are loosened, inhibitions are lost and more than just one or two revelations are made as the group of outrageous women give their down in the dumps friend Emma a makeover in order to regain the affections of her philandering husband…
Using Linda's husband Garry as a guinea pig to measure Emma's newly increased sensuality, the ladies endeavour to achieve their goal through the haze of alcohol, pretty awful karaokesque performances, some rather skimpy underwear and maybe some other things that look like men's things!
Featuring a cast of well-known locals comprising Ken Lillis as Garry, Kathleen Browne as Linda, Cathy McGowan as Carol, Jacinta Cannon as Kirsty, Bridie Faulkner as Emma, Brenda Lucas as Shauna and Kathleen McGowan as Kathleen (the Mother in Law from Hell), this newly written eye opening comedy will have you laughing in the aisles from beginning to end.
Ladies' Night runs at the Balor Theatre in Ballybofey on Thursday 5th, Friday 6th and Saturday 7th of June at 8.30 nightly.
Tickets are only €10 and are on sale now at the Balor Box Office on 074 9131840, or online at www.balorartscentre.com
Tags: