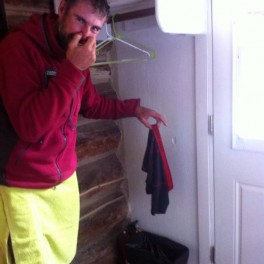 ADVENTURER Jason Black has sent his thanks for all the messages of support he has received after pulling out of his bid to climb of Mt McKinley in Alaska.
Snow storms and ice forced him to abandon the final climb to the summit.
Tonight he sent this message – filled with his usual humour – and this snap!
"Hi all – just back in Talkeetna town in Alaska long decent of the mountain but finally a SHOWER in 30 days …humbled with the fantastic positive messages of support THANK YOU .. Had the greatest expedition battle and Arctic weather kicks serious ass. Gutted I didn't top out but I gave it everything from every approach possible but for nature's weather. So looking forward to seeing the hills of Donegal & my family.. Love 2all cu soon Jason. The messages are very appreciated."
Tags: