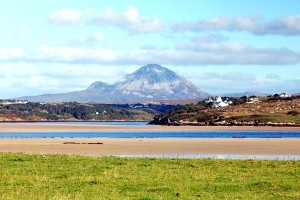 Jimmy Duffy's Annagry Community Notes
CHILDRENS BOOK COURSE FOR ADULTS
Dublin based children's book author and illustrator Adrienne Geoghegan will facilitate a 5 day course in Annagry Community Hall. This course will be held from Monday July 21st until Friday July 25th from 10am-4pm. Subjects will include "How to write in Pictures, building a story framework, physical structure of a picture book" among many other valuable topics. For further information, email Kim at poearthpots@gmail.com
To view Ms. Geoghegan's portfolio visit http://www.adriennegeoghegan.com/site/portfolio/box-art/
LOTTO
The numbers drawn in the Naomh Muire Club Lotto on June 25th were 2-10-11-24. There was no winner of the €1280 jackpot. Declan McGinley Coilcheim, Danny Tim Rodgers Baile Ciarraí and Catherine Gallagher Mullachdubh matched 3 numbers. The jackpot on July 2th is €1340. If you're not in, you can't win!
GAA TRAINING
Peil na mBan will hold training session for U10s and U12s Girls on Thursdays from 5.30pm until 6.30pm. The training for U14 and U16 Minors and Ladies will be held between 6.30pm and 7.30pm also on Thursdays.
THE OLD RAILWAY WALK
Thanks to all who supported the Annual Summers Evening Walk on the old railway line in Burtonport recently. The weather was perfect, the turnout fabulous and it was a very pleasurable evening. €300 was raised on the night with an additional €20 collected later. Thanks to all who took part.
100 CLUB DRAW
The following people win prizes in the June draw recently. €500 Kathleen McGinley Calhame. €200 Seamus Boyle (Joe) Bunaman. €100 each Mary G. Doherty Chapel Gate Belcruit, Mark Bonner Rannyhual and Shaun Gallagher (M) Ranafast. €50 each Joe Devenney Colaiste na Rosann, Martin Mannion Ceann a' Locha Anagaire, Diathí Mac Robaird Cnocastolaire, Declan McGinley Calhame, Anne Celine Boyle Loughanoran, Aiden Hughes Mullaghduff, Joe Glynn Annagry West and Gavin Campbell Ranafast.
CAMPAÍ SAMHRAIDH 2014
Beidh trí champa samhraidh a eagrú ag Club Óige Rann na Feirste i Mí Iúil i Áislann Rann na Feirste ón 7ú go dtí an 25ú ó 10r.n go 2i.n. Tá na campaí ag fáil tacaíocht ón Roinn Oidhreachta agus Gaeltachta agus Óige na Gaeltachta. 7ú go an 11ú Iuil: 4 bliana go 6 bliana, 14ú go an 18ú Iuil: 7 bliana go 12 bliana agus 21ú go an 25ú Iuil: 4 bliana go 7 bliana. Tá na táillí €40 do dhuine amhain agus €30 do gach duine eile as teaglach amhain. Le clarú cuir scairt ar Club Óige Rann na Feirste ag 086 4627475nó 0879158205.
ENTERPRISE AWARD
At an awards ceremony held in the Kilmore Hotel in Cavan Minister John Perry announced the winners of the first ever ILDN Regional Enterprise Awards. The overall award went to local men John Paul and Kevin Boyle of uPilot based in their native Bunaman, Annagry. Neighbours John Paul and Kevin set up their business on the BTWEA Scheme, part funded by the LEADER Programme they developed a unique business using the latest cutting edge technology to design, manufacture and operate Flight Simulators. They are building a Boeing 737-800 series simulator at the moment and have recently been awarded a six month contract to operate a flight simulator in Dublin Airport, with future plans to locate a range of simulators in international airport lounges throughout Europe and the Middle East. Best wishes to Kevin and John Paul in their future endeavours.
ROSSES RADIO CONCERT
Rosses Radio will be holding a concert evening of Irish Music along with Irish Dancers at The Stepping Stone Main Street Dungloe on Friday 4th July, doors open from 7.30pm and the entrance is €7 per person. As we know The Rosses is full to the brim of musical talent we have performances from Gearóidín Breathnach, fantastic young Trad Group Suantrai, Hughie Boyle, Kenneth Campbell, Pauline Glackin and Meenacross Comhaltas.
A Church Gate Collection on behalf of Donegal Hospice will be taken up before weekend Masses in St Mary Star of the Sea Church Annagry this weekend.
Tags: