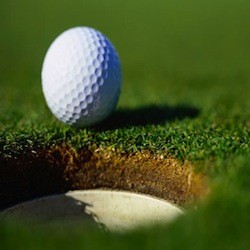 LETTERKENNY LADIES GOLF NEWS
Mena Breslin was in top form during Open Week, winning Golfer of Open Week.
How did she do it? She was 2nd in the Donegal Sport's, Con Boyce Open with 37pts.
There were three 9 Hole qualifying competitions. Monday's 9 Nine Hole was won by Mena with 33net, 2nd was Bridget Mc Clafferty, 37net and 3rd was Kate Gallagher, 39net. The 9 Hole on Wed. 18th June was won by Marian O' Sullivan, 20pts BOT, 2nd Angela Bradley 20pts and 3rd was Maureen Sweeney.
Catherine Ryan won the final 9 Hole competition on Friday 20th June. Congratulations to all the winners. The Teams continue to perform well, producing the right shots at the right moments to secure victory.
The Challenge Team ; Margo Birmingham , Triona Daly, Maureen Haran, Anne Flannery and Sarah Buchanan travelled to Mahee Island on the shores of Strangford Lough and came home with 2 matches. The return leg at home is on Thursday 2nd July at 2pm.Good Luck to the team.
The Junior Cup, Marian O'Sullivan,(capt.), Mary Murray, Angela Bradley, Cynthia Furey and Tracy Spence secured the necessary 3 matches to qualify for the quarter finals of the Ulster District Junior Cup. A victory against their next opposition Narin and Portnoo would secure a semi-final place.
The Intermediate Team are playing Enniskillen in their quarter final place, details yet to be announced.
The Breast Care Open was played last Thursday and while the weather was slighty damp, it did not deter 10 handicapper , Angela Bradley getting 40 Pts! Runner Up – Anne Flannery, 37 Pts. 3rd Celine Bradley 36 Pts. 4th Marian O' Sullivan 35pts. Visitor prize; Lady Capt., Sarah Nicholl, Portsalon ,32pts. F9, Eileen Daly 21 Pts & B 9, Patricia McLaughlin 17pts. Senior lady prize was won by Maureen Sweeney 30pts & 36 hcp Sarah Buchanan, 28pts. The only 2 of the competition was won by the winner on the 16th. Thanks to all the ladies who support this competition, either by playing or giving donations and to the ladies who year in year out sponsor it.
Last Tuesday's competition was sponsored by Rebecca Hair Creations, High rd, Letterkenny. Lady Golfer of Open Week , Mena Breslin , won with a great score of 44pts losing 4 shots for the great win. In her speech, she said she exchanged her 7 iron for a 5 wood on the fairway! The 3 wood is yet to come! The comp. sec. Karen Mc Glinchey was 2nd with 42 pts and Celine Bradley (Mena's sister, who prompted the 5 wood )came 3rd with 41 pts. . F9, Pauline Curley 20pts & the B9,Patricia McLaughlin 21. Bridget McClafferty won senior lady with 37pts & Eleanor O'Carroll 36hcp., with 30pts.. The Handicap Sec. Karen Crawford has been very happy giving many ladies a handicap cut, making the upcoming majors very interesting competitions and all to play for on the fairways of Barnhill!
The draw for Mr Captain, Tom Mc Donagh's Prize to the Ladies is on the board in the Locker Room. There will be new weekend competitions for July and August with 2 cards over 13 Holes to count on Fri. Sat and Sun., excluding major weekends.
Good luck to the Daily Mail Foursome of Tracy Spence and Cynthia Furey who play at home on Sunday against Enniscrone.
Tags: