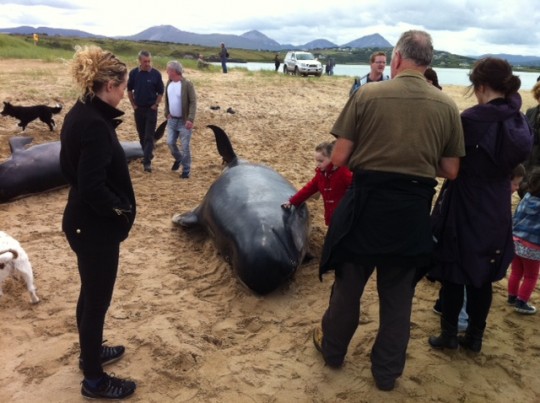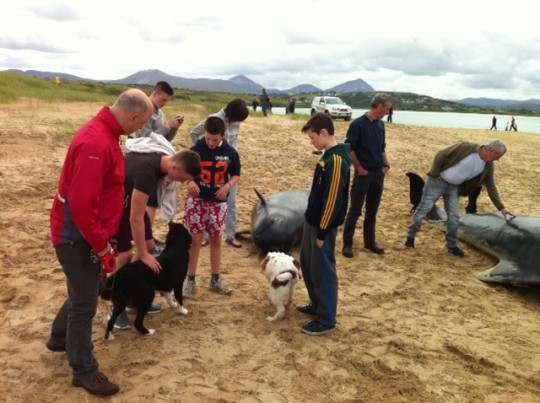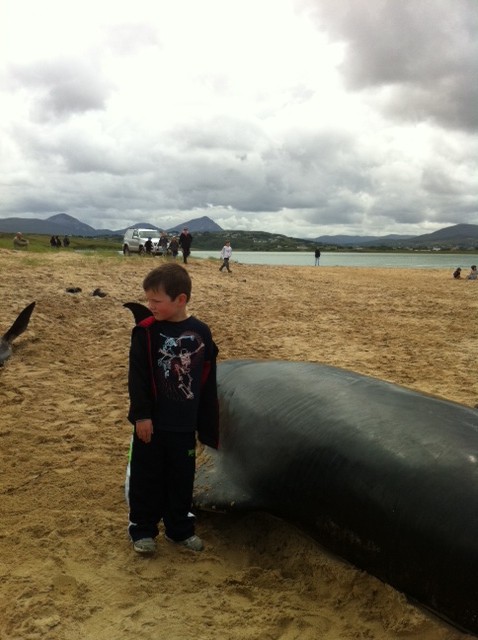 LATEST UPDATE – 13.42 – It has now been confirmed that five whales have died, and seven are currently in the bay battling for life.  
Five of the thirteen Pilot Whales have now perished and the others are still in grave danger.
The surviving whales have managed to swim out to a narrow estuary but are still at severe risk of beaching again.
Rescuers are hopeful that the incoming tide will help to re-float the whales and send them back to sea.
However, rescuers say a number of the animals appear to be ill and this may be the reason why they continue to beach.
We'll continue to update on this story as it develops.
The creatures were spotted by a man out jogging around 8.30am this morning.
The alarm was raised and locals rushed to the scene in an attempt to save the stranded whales.
Local man Danny Kearney is using his JCB in a bid to move the whales back into the water.
He is being supported by a team of up to sixteen local people.
Local county councillor Seamus O Domhnaill is one of those on the scene trying to rescue the whales.
He said "There is a great community response and we are doing our best.
"The tide is out but hopefully it will come back in time so we can rescue the rest of the whales and return them to the sea.
Locals are pouring buckets of water onto the whales in a bid to keep them alive.
A team form the National Parks and Wildlife service is also on the way to the scene.
Tags: