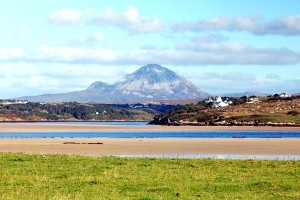 Jimmy Duffy's Annagry Community Notes 
VARIETY NIGHT
A Variety Night and Old Time Dance will be held in Annagry Hall on Sunday July 27th starting at 8pm. A host of your local talent will provide the entertainment. An old time dance will follow with music by the ever popular Murphys Law. This will be the first such night in the Hall since it was renovated in recent years. Annagry Hall was a popular dance venue in times past. Proceeds will go to the Hall Fund.
COUNTRY MARKET
This month's Country Market will be held this Saturday July 19th between 11am and 2pm in the Big Hall Annagry. There will be an array of local produce along with the usual range of delights. Don't miss it for your cards, crafts, vegetables and much more. If you would like to book a stall ring 087 1935066 or email annagryhall@gmail.com.
CHILDRENS BOOK COURSE FOR ADULTS
Dublin based children's book author and illustrator Adrienne Geoghegan will facilitate a 5 day course in Annagry Community Hall. This course will be held from Monday July 21st until Friday July 25th from 10am-4pm. Subjects will include "How to write in Pictures, building a story framework, physical structure of a picture book" among many other valuable topics. The course is suitable for adults only. For further information, email Kim at poearthpots@gmail.com
To view Ms. Geoghegan's portfolio visit http://www.adriennegeoghegan.com/site/portfolio/box-art/
CARRICKFINN CHURCH DANCE
The Annual Church Dance will be held in Caisleáin Óir on Friday July 11th from 10pm to 1am. Music is by Martin and John and the admission is €5.
TABLE QUIZ
A Table Quiz in aid of Donegal Hospital Patients Comfort Fund will be held in Caisleáin Óir Annagry on Wednesday July 9th at 10pm. Teams of four €20 per table. Thank you for your continued support.
LOTTO
The numbers drawn in the Naomh Muire Club Lotto on July 2th were 6-12-20-22. There was no winner of the €1340 jackpot. Cait McFadden Rann na Feirste, Jimmy Sharkey Coilcheim and Nora O'Reilly Rann na Feirste matched 3 numbers. The jackpot on July 9th is €1400. If you're not in, you can't win!
GAA TRAINING
Peil na mBan will hold training session for U10s and U12s Girls on Thursdays from 5.30pm until 6.30pm. The training for U14 and U16 Minors and Ladies will be held between 6.30pm and 7.30pm also on Thursdays.
CLOTHES RECYCLING
Peil na mBan Naomh Muire Recycling Drive. It's that time of year again. Let's help out our ladies team and get the wardrobes empty of any old clobber. Bag it up and leave it in the clubhouse or we can arrange for someone to collect it. Every kilo of old and unwanted clothes you give the ladies board will go to a reputable recycling company and the money taking in will go directly to ensuring our teams are looked after with proper coaching and gear. Our club need your old clobber!
CHAMPIONSHIP
The Ladies Junior Championship between Naomh Mhuire and Glenswilly will be held on Sunday 13th July in Glenswilly at 12pm. The club ladies have a bag packing day on the 12th July in SuperValu Dungloe. They are looking for bag packers, if you can help contact Karen McGarvey 087 1704517 or Shaun Rodgers 087 2330185.
CAMPAÍ SAMHRAIDH 2014
Beidh trí champa samhraidh a eagrú ag Club Óige Rann na Feirste i Mí Iúil i Áislann Rann na Feirste ón 7ú go dtí an 25ú ó 10r.n go 2i.n. Tá na campaí ag fáil tacaíocht ón Roinn Oidhreachta agus Gaeltachta agus Óige na Gaeltachta. 7ú go an 11ú Iuil: 4 bliana go 6 bliana, 14ú go an 18ú Iuil: 7 bliana go 12 bliana agus 21ú go an 25ú Iuil: 4 bliana go 7 bliana. Tá na táillí €40 do dhuine amhain agus €30 do gach duine eile as teaglach amhain. Le clarú cuir scairt ar Club Óige Rann na Feirste ag 086 4627475nó 0879158205.
WATER SAFETY
Irish Water Safety will carry out both Swimming Lessons and Safety & Rescue training in the Keadue and Cruit Island areas as usual this summer. Dates have been confirmed as follows: Week one begins on Monday July 14th and the second week on Monday August 11th. Children may attend lessons for both weeks or choose the week which suits them best. Swim lessons will be held at the block yard beach in Keadue from 10am each morning and are suitable for children aged from around four years upwards. Registration will take place from 9.30pm on both Monday mornings. Safety and rescue training will take place at the bridge at the entrance of Cruit Island from 1pm, and is suitable for children over twelve years of age who are competent swimmers. Registration will take place at the bridge from 1pm. The cost per child for weekly sessions is €30.
CHURCH GATE COLLECTION
The total amount collected at the annual Church Gate collection in aid of the Donegal Hospice in Annagry on the weekend 5th and 6th of July was €944.The management and staff of Donegal Hospice wish to thank to all who subscribed.
WAR COMMEMORATION
Those from the Lower Rosses who died as a result of World Wars will be commemorated at a series of events to be held in Annagry Community Hall. The commemoration will begin on Monday evening August 25th with an ecumenical service followed by the opening of a 5 day exhibition run in conjunction with Donegal County Museum. On Saturday August 30th there will be a unique display of photos, medals, letters etc relating to the local men who fought. In our own parish of Annagry, a heavy price was paid with seventeen men known to have died in the WW1, four in WW2 along with the civilian victims of the Ballymanus Mine in May 1943. In all it is estimated that several hundred persons from this Parish were caught up in the upheaval in some way or another. If you have material that you would like to display contact 087 1935066 or email annagryhall@gmail.com. Personal memorabilia will be display for only one day in a secure environment.
Tags: