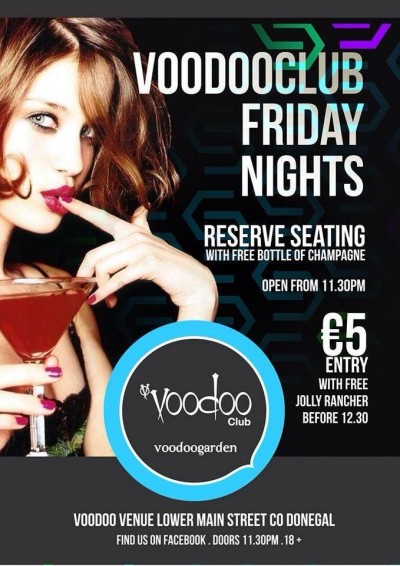 Tipped as the main ENTERTAINMENT HQ for the North West, Voodoo Venue Letterkenny really has everything to offer this weekend.
There is a super line-up of entertainment for people of all genres to enjoy.
If your around Letterkenny this weekend Voodoo Venue will have a stall at Donegal's very first homegrown food fest in Aura Leisure Centre on Saturday and Sunday, our very own in house mixologist will be taking to the stage at 3.30pm on Saturday to give a master class in cocktails, call in if your around.
Friday we welcome back the great band Red Alert from 11pm to 1am followed by Dj Kevin Lennon till late. He loves music and what you request will be played.
Voodoo Venue also presents DJ Paddy Friel in Main Club from 11.30pm admission €5 with a free cocktail to all ladies before 12.30 am.
SATURDAY in Voodoo Lounge it's one of the best bands in the country at the moment The Bad Ass Mules. COOL FM's DJ Katherine Wilson the hottie from Belfast is spinning her tunes on the main floor of Voodoo Club.
And if you wanna feel like you haven't left your sitting room Vintage presents DJ Kieran Campbell all the way from Galway
If you want to book a table contact the Facebook page or email philipvoodoovenue@gmail.com or emermcglynn@hotmail.com
Vintage is open from 9pm and is FREE until 11pm.
Sunday we have Honky Tonk Heroes in Voodoo lounge from 5pm with Rubix on stage from 10.30.
Voodoo Venue -something for everyone this weekend check or Facebook for special offers and prizes
Tags: