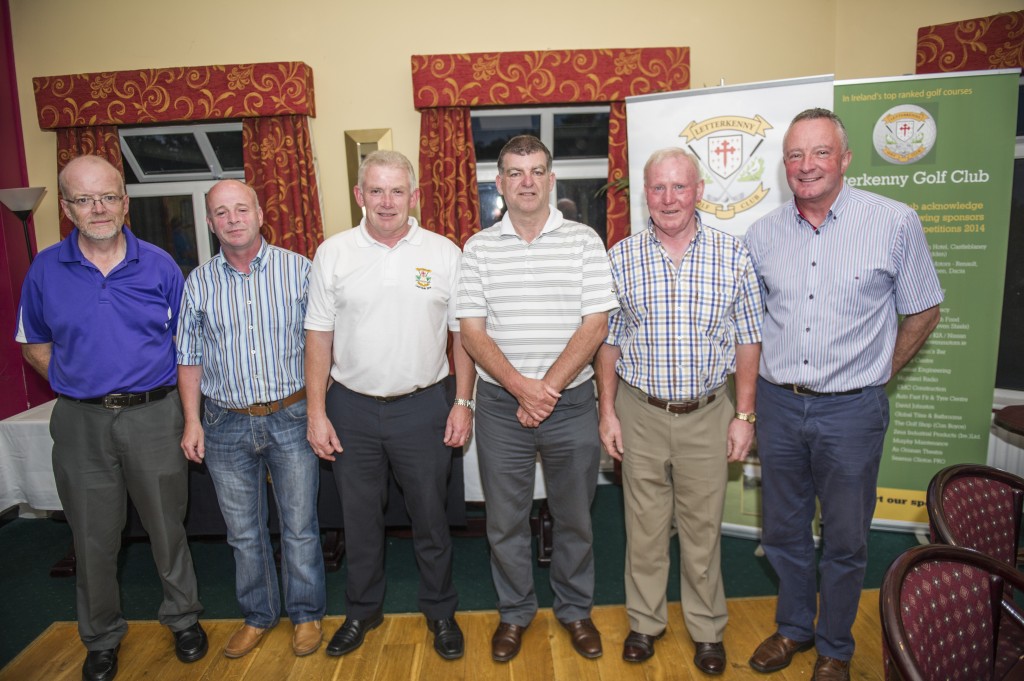 Letterkenny Golf Notes
Wednesday 23rd Open, sponsored by Inishowen Motors-Letterkenny Kia/Nissan, Letterkenny, recorded over one hundred and thirty competitors with one of the home club's most consistent members taking top honours.
Despite a few double bogeys on the front nine, there was no doubt that "that" birdie at the par three 5th hole gave Doley Higgins [22] the win by just one point, recording 22pts on the back nine to pip Michael Mc Elhinney [16] who returned 41pts.
Despite returning 23pts on back nine, it was the double bogey at 9th which caused Michael to lose out.
Relegated to third place on BOT was Michael O'Donnell [13] whose birdie at 2nd, followed immediately by bogey at 3rd, gave him 21pts on front nine but a disappointing bogey at 18th blew his chances.
In fourth place was Brendan Duffy [11] with 40pts and gross prize was won by Jamie Foley [3].
With the Friday "meal deal" re-starting, it was club stalwart, single handicapper Kevin Kiely [6] who "beat the heat" to take top spot on the podium with a gross 79.
With another entry breaking the one hundred mark, Saturday's Open, sponsored by Mc Gettigan's Bar, Clanree Hotel, saw another club favourite Bobby Shiels [17], getting back into winning ways with a solid score of 43pts.
Despite an uncharacteristic double bogey at 4th hole, Bobby pulled one shot back with a birdie at 7th for an outward nine of 23pts.
Thinking he had blown his chances with a "blank" at 10th followed by another double bogey at 11th, Bobby steadied the swing to record 20pts on back nine and an overall winning score of 43pts.
In runners-up spot was Ulster Cup team panelist Nicholas Millier [14] who, with early back-to-back birdies at 4th & 5th holes, returned 23pts on front nine, only to slip up on 10th with a double bogey and return a 42pt finish.
Claiming third spot was the ever consistant Michael-Boucher Hayes [14] with 40pts., returning a winning score for the second week running.
With the climate turning to rain on Sunday, the Value Centre Wholesale sponsored Open belonged to the single handicappers, with "the long fellow" Vincent Mc Glynn [7] taking top spot with a "professional" type scorecard that read thirteen pars and one birdie thru 14th [34pts], only to blemish it with three bogeys in the closing four holes for a return of 41pts.
Two points behind was another club team stalwart Eamon Mc Glinchey [6] with 39pts., who erased a double bogey at 3rd with birdies at 4th & 7th, returning 20pts on front nine and finishing the inward nine with a birdie at 16th and bogey at 17th to secure runners-up spot.
Monday 28th saw a large turnout of Juniors for their Monday Holiday competition and congratulations go to Ronan Daly [25] who pipped Brian Diver [25] to first prize on BOT, both players finishing on 39pts over eighteen holes.
Team News: Following on from their two matches to three defeat at Rosapenna, the club's Donegal League team's return match at home on Thursday saw them battling their way through to the semi finals when they will now play Buncrana Golf Club.
It is the first time since 1998/99 that the club team have reached this round, this year under the captaincy of the shrewd Gerard Duffy.
The standard of golf in the first match on Thursday last was made of Ryder Cup proportions, with no less than 15 birdies recorded through 13 holes, and Letterkenny team members Eamonn Mc Dermott and Jamie Foley returning 10 under gross for 16 holes.
Also achieving matchplay notoriety at the highest level are Letterkenny's two young juvenile members Christopher Duffy and Jack Patton, who were 4 under par for their match. Congratulations and future success to the team panel and captain Gerard.
Juveniles: will be having their Junior Captain's prize over next weekend with the young juniors on Sunday evening, 3rd August and the 9/11/18 hole comp. taking place on Tuesday 5th.
Diary Dates: Saturday 2nd August Open will be sponsored by Highland Radio and Wednesday 6th Open sponsored by EMC Construction.
Letterkenny Golf Club will host the annual Ladies and Gents Open on Bank Holiday Monday, 4th August, in aid of the Friends of St. Lukes, organised by Mick Gallagher. Entry fee: €10 members, visitors €20; Please support this worthy charity.
Tags: