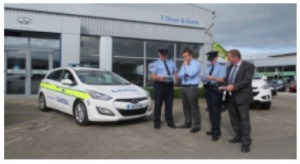 GARDAÍ have today issued a new warning over thefts from cars in Co Donegal – saying gangs will target graveyard blessings over the next few weeks.
Sgt Paul Wallace Divisional Crime Prevention Officer warned: "Recent crime figures tell us year to date (compared to this time last year) we have a 33% increase in reported thefts from vehicles, with significant increases in Buncrana, Milford and Letterkenny garda districts, so it appears we have to keep reminding the public about this very preventable crime.
"Local Gardai have teamed up with Divers Hyundai & AXA Insurance to appeal to the public to be more proactive in relation to leaving items visible in parked vehicles.
At the launch this morning Mr. Conal O Donnell AXA branch manager in Letterkenny commented: "This is the time of year when people are on holiday both locally and we have an influx into the county to attend festivals, visit family or scenic areas.
"We in AXA have noted over the last number of years an increase in claims relating to the theft from vehicles, cars particularly parked at scenic areas and also of people attending graveyard ceremonies, which is unfortunate.
"This is a very preventable crime by taking simple precautions you won't suffer the stress of losing personal items and having to make a insurance claim ..after all you are on holiday!'
Local Garda Sgt Siobhan Mollahan said: "This is a preventable crime, by simply locking valuables in the boot or better still leaving them at home. It is a crime that causes a lot of personal upset and stress in particular to females if their handbag is taken as they usually contain a lot of personal items, keys, purse driving licences and other items."
Terence Diver Dealer Principle Divers Hyundai said he was delighted to support the crime prevention initiative.
Said Terence: "For the month of August each car we sell will have included in the vehicle documentation information from An Garda Siochana relating to making your property more secure. We all know that Donegal is a popular destination for visitors to our county and at this time of year we get out ourselves to the Scenic areas, Beaches,Errigal ,SlieveLeague, Glenveagh etc so the advice is don't leave your property visible in your car the manufacturers have installed alot of measures to make your car more secure but if you leave property visible on the passenger's seat you are helping the criminal it is really that simple.."
Local Divisional Garda Crime Prevention Officer Sergeant Paul Wallace has issued the following advice:
Ensure your car is locked with all windows closed.
Remove any valuables and place in the boot before you set out to attend the ceremonies – better still remove items and leave at home if possible.
Thieves are targeting ladies handbags, cameras, binoculars & sat navs basically any item that can be quickly sold on.
Parked cars will be checked discreetly by the thieves who will steal items in unlocked cars.
Persons acting suspiciously i.e loitering in the area should be kept under observation and Gardai contacted.
General Mid Summer Advice – You can afford to lose nothing!
Keep a sharp eye on strange vehicles in the vicinity of your home & elderly neighbours.
Restrict access onto your property; maintain your boundary fences, hedges and walls.
Install a monitored intruder alarm to your home and buildings that are vulnerable.
Going on Holiday or Shopping – Ask at neighbour to look over your property away, (you can also return the favour).
Crime opportunity can you afford to lose yours…….
Further Crime Prevention information – www.garda.ie
Tags: