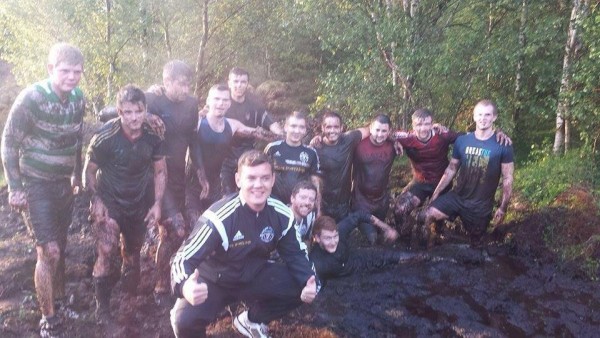 Mrs Brown's Boys star Danny O'Carroll shows he isn't afraid to muck in when it comes to getting his team fit for the new season.
Danny, who is known better as Buster in the hilarious sitcom, is joint manager of Donegal League side Lagan Harps who begin their campaign later this month.
Danny put his side through their paces during a pre-season run through the Old Foundry in Lurgybrack outside Letterkenny.
But as you can see from the picture, the players are covered from head to toe in muck, while Buster has managed to steer clear of the mud and keep his managers tracksuit intact.
Lagan Harps stalwart Ernie Pollock revealed last year how Danny was no mean player when he got the time to line-out for his local side.
But the Dubliner was forced to hang up his boots for a while this season because of work-commitments.
Danny will be hoping his side can match the success of the hit TV show he stars in which recently hit the big screens.
Rumours that Buster has secured the services of the affable Mrs Brown have not yet been confirmed, although it is believed that initial negotiations have taken place between both parties.
It's believed that her role at the club would involve making sandwiches for after the games, and ensuring the kit is sparkling clean for every match.
Tags: