A new feature film is being shot on location on both Donegal and Derry.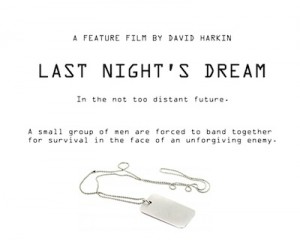 'Last Night's Dream' is the new feature film from award winning Derry born, writer and director David Harkin.
The film was financed solely by the producers David Harkin, Eoin Daly & Golda Mansilla and has received no third party funding whatsoever. The film also features special make up effects by Emma McBride.
Director David Harkin is best known for his short film 'Politics' which won the Greer Garson Film Award at the University of Ulster and for his zero-budget feature 'Murderous' which won Best Local Film at the Yellow Fever Independent Film Festival in Belfast in 2012.
'Last Night's Dream' is set in the year 2037 and tells the story of a group of ex Irish Army soldiers who must make their way out of Ireland before time runs out for them.
However to achieve this goal they must first track down a cold blooded killer who holds the key to their survival.
The cast includes local actors Martin Bradley, Johnny French, Dee Kivlehan, Kyle Martin, Anett Leuner, Johanna Fegan, Ciaran Paterson, Michael Harkin, Alex Watson Ciaran Keogh, Rebecca Denby, Jim Sweeney & Marina Marcinekova
Tags: