BREAKING NEWS: The Army Bomb Disposal Unit and the Gardai have sealed off an area at a house in Downings.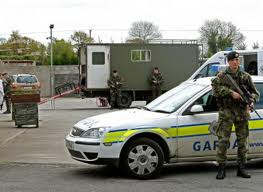 Donegal Daily understands a suspect device, thought to be a pipe bomb, has been left on top of a vehicle beside the house.
Another device is also believed to have been left at another premises in Kilmacrennan.
The vehicle, believed to be a recreational vehicle, belongs to a family holidaying in the Downings area.
The family are visiting a local Donegal family who would be well-known in business circles.
The businessman at the centre of the incident received a call from Gardai overnight.
They said they had received intelligence that a device had been left at a caravan belonging to him.
However, following a search of the area the businessman then discovered the device had ben left beside his house.
It followed an anonymous call to the Samaritans in Derry who then contacted the PSNI.
Gardai are remaining tight-lipped about the incident.
We will bring you more on this story as it develops.
Tags: