EXCLUSIVE: The new owner of Rockhill House in Letterkenny has promised to return the mansion to its former glory for the people of Co Donegal.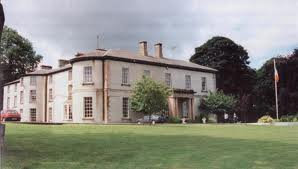 In an exclusive interview with Donegal Daily, John Molloy has said he wants to restore every part of the 70 room house and turn it into Donegal's equivalent of Lissadell House.
And Mr Molloy, who paid €670,000 for the 30 acre site at Bomany at auction yesterday, said he wants the people of the county to be heavily involved in the project.
He revealed "As a company we have always been about restoration and preservation and this will be no different.
"We want to restore Rockhill House to its former glory and that project will start as soon as we gets the keys to the building.
"We know Rockhill holds a special place in the hearts of the people of Letterkenny and Donegal and we want them to be involved in the project from the outset.
"We will be setting up a Facebook page and we welcome any contributions or comments or any information which will help allow us to be true to the original house as is possible," he said.
Mr Molloy, who is from Sligo but who has been resident in Convoy for several years, said he wanted to restore the property in a similar fashion to that of Lissadell House in Sligo which is owned by the Cassidy family.
"That would be our plan, that we would firstly restore the building and then schedule tours of the house so the people can see the glory that the house once held.
"We also appreciate the role the army have played in Rockhill and this will be an aspect that will be reflected in our development and preservation," he said.
Mr Molloy agreed that it will take a substantial amount of cash to bring back the house to its original glory.
But again, he said he hoped the local community and workforce will help them in their quest.
"We all know what wonderful craftsmen and women that Donegal has and we will be hoping to resource workers from the local community to help us with the project," he said.
He added "We have the vision and determination to bring this beautiful house and its lands back to life in a sensitive and caring manner and I suppose part of the challenge will be to make the house when restored accessible to visitors while at the same time adapting areas of the house to meet the needs of family life in the 21st century."
He also paid tribute a personal tribute to well-known local soldier, Declan O'Carroll, a former army commander of the barracks at Rockhill House.
"Post auction yesterday we were very kindly given a small booklet titled Rockhill House –A History written by Lt. Col, Declan O'Carroll and dedicated to those ex Irish servicemen who were stationed in Rockhill from 1939-1946 and especially to their comrades that died in the service of our country.
"It was a very special ending to a most exciting day and I hope that working with Declan and colleagues we will seek during the restoration process to find some appropriate way to address on the site the memory of all that served here."
Former county councillor and now Letterkenny Town Manager, Dessie Larkin, said he was delighted and relieved that the new that Rockhill House is now to be preserved and returned to its former glory.
"This is the dream of many people of Letterkenny for Rockhill House and it brings great relief and joy.
"We are not just honouring the memory of history and all those who served at Rockhill House however.
"As a hub, Letterkenny has always been a dormant town for visitors wishing to see Glenveagh, Sliabh Liag, Malin Head or Ards Forest Park.
"This news now means that we will now have a leading tourist attraction of our own and I wish to congratulate the Molloy family on their purchase and offer them any assistance they need going forward," he said.
Tags: