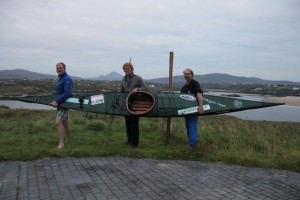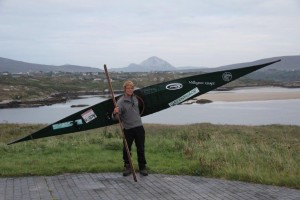 A teenager from Portrush, Co Antrim is in the final stages of his solo charity adventure around Ireland in a self-made skin-on-frame sea kayak.
Nineteen-year-old Hamish Wilkinson left the comfort of his home in June and is currently kayaking off the Donegal coastline with support from our own adventurer Carrickfinn man Anraí Ó Domhnaill.
The teenager set off on his adventure on June 28 and hopes to reach Portrush this week.
He has battled storms off the Dingle Peninsula and the challenging waters at Benwee Head on the South West of Donegal bay in his bid to circumnavigate the island.
His aim is to become the youngest individual to circumnavigate Ireland on a solo expedition and to complete the expedition in a hand made traditional kayak.
The kayak was built by Hamish and his dad John of Valkyric Craft Classic Canoes. The paddles are traditional Greenland Paddles built by Hamish and handshaped and finished in oils.
Hamish is also hoping to raise funds for charities Action Cancer and Greeenpeace.
Donegal's own adventurer Anraí is providing logistic and service support to Hamish along the Donegal Coast section of his epic trip.
He said: "This charitable young man is an inspiration to us all. I observed him paddling in the wild Atlantic along treacherous stretches of the Donegal coast.
"Safety and respect for the sea are core values for Hamish. Although young in years, he is at one with the sea and is clearly a very highly skilled boatman who possesses great courage, stamina and endless determination.
"I am certain that he will achieve his Expedition Aims in the next few days on the final stage of this Extraordinary Expedition. To Build your own boat and Paddles and paddle around Ireland is very special."
The teenager has his own Facebook page where you can get updates on his adventure: Hamish Around Ireland and also a blog http://www.valkyriecraft.com/hamishroundireland.htm