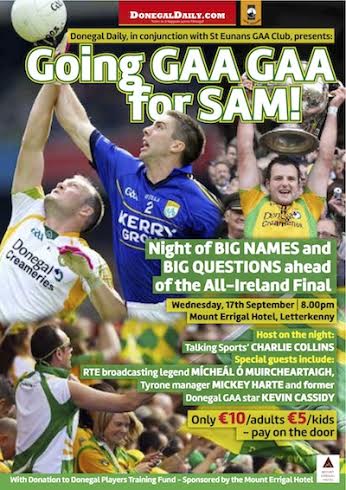 Tickets for the All-Ireland Final will be like gold-dust but Donegal Daily has TWO free tickets to give to one lucky reader.
The Donegal GAA team has been lucky to have a loyal sponsor like Donegal Creameries in recent years.
And now courtesy of the Donegal teams' main sponsor we have two tickets to give away.
And the even better news is that the competition is completely FREE – no expensive textlines or asking for a like on Facebook!
Simply answer this simple question – 'Name the cow that is used on the Donegal Creameries fresh milk packs?'
You can email your answer with your name, address and mobile phone number to dailydonegal@gmail.com.
Entry to the competition closes at 3pm next Wednesday.
The winner will be announced at Donegal Daily's Night of The Stars at the Mount Errigal Hotel on Wednesday night next. MC Charlie Collins will contact the winner by phone so make sure you have your mobile charged up!
See our poster for what promises to be a great night.
Tags: