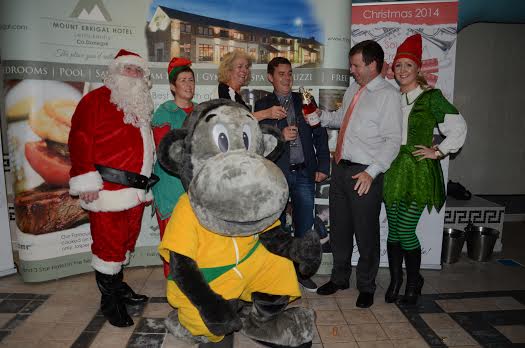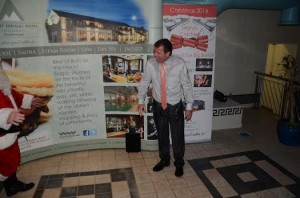 Mount Errigal Hotel Launches Party Nights with a star studded YouTube hit!
In keeping with the Ice Bucket phenomena, the hotel decided to incorporate their own challenge into their YouTube video, where Danny O'Carroll & Benny the hotel's Mascot dunked Carolynne & Johanne the party sales elves, however, little did Terry McEniff know (The hotel's Managing Director) that he too was in for a drenching!! Carolynne Harrison, the Sales & Marketing Manager, thought it would be funny to surprise him with the bucket of iced water at the end of the filming, she is delighted to say, she still managed to hang on to her job after the surprise!
With Donegal in the All Ireland Final, the hotel also managed to dupe Danny O'Carroll, the Dublin star, into partaking in the popular song 'Jimmy's winning matches', the look on his face is priceless, I'm sure his Donegal born wife will be happy to see his support for her county!
Since the YouTube video went live, the combined views have reached almost 3000 hits.
"This is great publicity for the hotel," says Carolynne Harrison, Sales & Marketing Manager.
"We wanted to do something different and funny, we wanted to show our guests our personality, to give them a taste of what our party nights are all about and to show them that we are not the typical serious hoteliers that many perceive hoteliers to be, we are fun and we can laugh at ourselves!!"
To view the video, visit the hotel's YouTube channel http://www.youtube.com/user/MountErrigalHotel
Danny O'Carroll mentions his own Charity event in the video, on the 5th December; we will have top celebrities from the world of sport, music and entertainment, joining the service staff to serve you on the night! It is set to be a fabulous, star studded night with a 4 course dinner, wine & the best entertainment.
This year, the hotel welcomes back ABBA Reunion from London's west end on the 12th & 13th December and the award winning Bentley Boys, 6 piece big band that will blow the roof off! The hotel's party nights on the 12th, 13th, 19th and 20th will offer cocktails by the lobby fire, delicious 4 course meal to include their famous 10oz sirloin steak cooked on the Josper Grill.
The Christmas Events are all now on sale, many nights are already seeing hundreds of bookings, even before the brochures have been printed! Call today (074 9122700)for more details or visit the website and go to the event calendar www.mounterrigal.com
Tags: