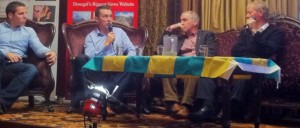 Tyrone manager Mickey Harte has praised the influence of Leo McLoone on this current Donegal side ahead of their All-Ireland SFC final against Kerry.
Harte believes the Glenties man doesn't receive enough recognition for how important he is to the Donegal system.
Harte told Charlie Collins at the Donegal Daily 'Up For The Match' that McLoone was a vital cog in Donegal's system, and feels he doesn't get the recognition he deserves.
Harte said, "Leo McLoone is brilliant player, he gets through a mountain of work, and is vitally important to Donegal.
"He's so important to their system, he works so hard, he picks up breaks, he starts attacks, he stops attacks, he's a super player and doesn't get the recognition he deserves.
Harte pointed to the goals McLoone netted in the earlier rounds of the Ulster Championship.
"He took his goals so well against Derry and Antrim, and scored them at crucial stages.
"The Derry goal was a huge one and he stepped up to the plate, when they needed it.
"They'll be a lot of speculation on who will start and who won't start, but he'll certainly be in the starting line-up on Sunday.
Tags: