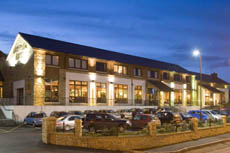 Due to the unprecedented increase in Lunch trade, the Mount Errigal Hotel is preparing for its continued success by employing a new Chef de Partie.
Earlier in the year the hotel invested in a Josper Charcoal Oven, the Josper Grill is the latest professional tool that has taken the international culinary world by storm with lauded Chef's such as Heston Bluementhol, Gordon Ramsay and Jason Atherton creating Josper Centric Menu's in their own establishments.
The Spanish Hybrid Indoor barbeque grill, powered by Bincho Tan white hardwood oak charcoal is renowned for the best tasting grilled meat, fish and vegetables swiftly and more importantly… perfectly!
Carolynne Harrison, Sales & Marketing Manager attributes a lot of the success of daily lunches to the fact that the Josper Grill is a very healthy, yet tasty way of grilling lean meats, it is a delicious, healthy option which is very quick in terms of service with ample parking on site, making it a preferred option for the health conscious corporate people in the town. The lunch menu includes at least 2/3 Josper Centric dishes with a full salad & sandwich bar and of course, for those lucky people who need not worry about calorie counting, we still offer our delicious roast of the day with all the trimmings!
Lunch is served daily from 12.30 to 2.30pm and is perfect for those who are limited for time because the Josper, is super fast, without compromising on taste!
A Chef de Partie required to work in the busy Dexters Smokehouse.
Hours 07.00 -15.00 ,Mondays to Fridays.
Candidates must have experience working in a similar environment and be able to work on their own initiative.
Duties will include preparing and serving Breakfast and Lunch.
Suitably qualified applicants can forward their CVs to enda@mounterrigal.com
Tags: