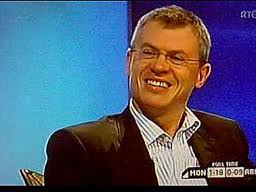 GAA pundit and former Derry football star Joe Brolly has had another go at Kerry – after he famously wrote off the county before the All-Ireland final win over Donegal.
The barrister was on the end of Kieran Donaghy's wrath in the aftermath of Sunday's final.
The full forward slammed Brolly's claim that the Kerry 'conveyor belt' producing top players was broken.
But in the latest twist in the heated row another forward – James O Donoghue – tweeted the same question directing to Brolly, writing: "Well Joe Brolly what did you make of that?"
Brolly responded: "Pure s****"
And in another Tweet, he had a swipe at fellow Sunday Game pundit Pat Spillane.
The Kerryman had previously described Donegal football as 'puke football'.
So Brolly tweeted: "It's only puke football when Kerry aren't playing it."
He said in another tweet: "Fitzmaurice had no choice. It was the smart play. They would inevitably have lost otherwise. A forgiveable travesty."
He also congratulated O Donoghue but added: "Do something about your hair."
Brolly had been unable to appear on the highlights of the Sunday Game on Sunday night because of a charity commitment.
But Spillane was there – and he stuck the knife into Donegal by claiming 'footballing class' had won on Sunday, insisting the better footballers were on the Kerry team.
A smiling Martin McHugh didn't rise to the bait, instead congratulating Kerry on their win.
Tags: