Where will you catch someone reading?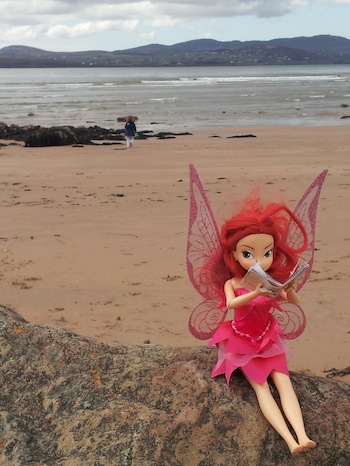 Donegal County Library Service are asking children aged 4-14 from all over the county to get out there and snap a photo of someone or something caught reading in a weird or unusual place or situation.
It could be your cat or a cuddly teddy, your dog or your dad. It up to you… stage it or catch someone in the act.
Building on the success of last years' competition, we are asking children to snap a photo of someone reading anytime or anywhere. Does your best friend sneak off to read Diary of a wimpy kid up the comfiest tree in the park? Does your brother read his lego men a bed time story? Or could you imagine the craic at Barbie's monthly book club meeting? Whatever your photo, staged or not, we want to see it.
For 2014 we will be seeking out the most unusual and most inspiring photographs as worthy winners of our 3 €50 vouchers sponsored by Easons Letterkenny. This year there are 3 ways to enter – by e-mail (wainfest@gmail.com), by post (Central Library, Oliver Plunkett Rd, Letterkenny, Co. Donegal) or by hand (at your local library).
For inspiration follow us on facebook or twitter over the coming weeks. For more information visit us at www.donegallibrary.ie
Be brave, be bold and be on time. Closing date for entries is Friday 31st October. Winners will be announced on Facebook, twitter and www.donegallibrary.ie before the end of November.
Tags: