A Donegal-based animal rescue has been overwhelmed by the arrival of almost 50 abandoned kittens in the past month and is appealing to the public for help with this crisis.
By launching an emergency 'Help Us To Help Them' campaign, Animals In Need hopes to raise the vital funds needed to care for the dozens of kittens that are being found discarded around Donegal.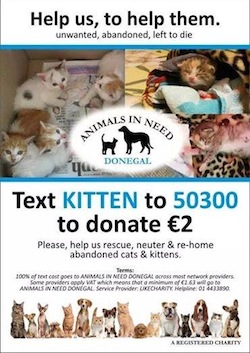 The public can help by donating €2 via their phone by simply texting the word 'KITTEN' to 50300, so please make a difference today and help save an orphan kitten.
Lately the Animals In Need volunteers have seen an alarming rise in the number of full litters of kittens that are being dumped around the Donegal, in boxes on random doorsteps and in isolated areas.
Volunteer Gitte McMullin revealed that in the last month, nearly 50 kittens have been found, which included 10 full litters of kittens.
"The kittens are being taken from their mothers and dumped in cardboard boxes on people's doorsteps; many of them are not even weaned and some are as young as 2 weeks old and then have to be hand-reared by being bottle-fed every 3 hours throughout the day and night.'
Gitte has recently successfully hand-reared five of these abandoned tiny kittens.
She added 'What is probably worse is when kittens who are a bit older are being dumped out in the middle of nowhere to fend for themselves. They are still only babies and can't survive on their own so if they aren't found by some miracle, then they'll suffer and die horrible deaths or slowly starve.'
As the crisis continues, Gitte added 'The situation has got out of hand. People are still not spaying or neutering their cats, even though the vets are being very good and offering generous discounts, especially for stray and feral cats. Inevitably, before they know it, the cat's owners find themselves with a bunch of kittens and no homes for them and so they offload their problem on someone else.'
In the meantime, the volunteers are left to attempt to save all these abandoned kittens, and as the charity has no shelter, this means taking the kittens into their own family homes to care for them.
Animals In Need is made up entirely of unpaid volunteers and every cent raised goes directly to the care of the animals, for food, worming treatments, vaccinations, veterinary bills and bedding, so please support this worthy cause, pick up the phone and help an abandoned kitten today.
Tags: