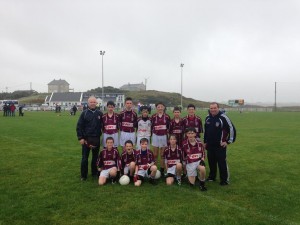 After being pipped by a point in last weeks Northern board final , Termon U13's bounced back with a hard earned victory over the the Southern board champions, to edge out Killybegs in a thrilling contest in Glenfin on Saturday last.
A gifted and physically strong Killybegs side made it clear they meant business , but the intensity and drive of the Termon lads allied to some quality football ensured they edged the first half.
Klllybegs started strongly after half time , and only for some stalwart defending by Bobby Mc Gettigan and Marty Steele, they could easily have added to the their three goal tally and won the game .With Jamie Grant and Conor Black always available Termon managed to settle the ship and grab a few key scores to stay in front but as the full time whistle beckoned Killybegs rallied again.
In a pulsating contest which ebbed and flowed over the hour , Conor Mc Fadden and Ryan Mc Fadden initially controlled enough supply of ball to allow Termon keep their noses in front while the unyielding defence stood strong and created a platform for success. Once again it was a triumph of the collective over the individual , and manager PJ Mc Fadden credited the work ethos and collective spirit as the key to the Termon victory.
As a team they were a complete unit , but special mention must go to Bobby Mc Gettigan who won a key battle with a talented Killybegs full forward , and half forward Conor Black who provided an outlet and launch pad for Termon throughout the hour. In addition Ryan Mc Fadden was the perfect linkman to feed a Termon team who seemed determined to work as a unit to ensure team success and they were full value for their win.
When speaking of their pride in the boys performance , managers PJ & Andy Mc Fadden were keen to emphasise that the boys had played brilliantly to date, but that the job was not yet done. They maintain that they have always believed their group of players deserve to be playing in the county finals and look forward to testing themselves against the best in the county next weekend. While acknowledging that St Euanans are red hot favourites, they believe their team have the ability to rise to the occasion and spring a surprise .If it replicates previous games, another thriller may be in store .It should be an interesting game , be there if you can …… Donegal Football is in safe hands if we can build on the success of these fine young teams..
Tags: