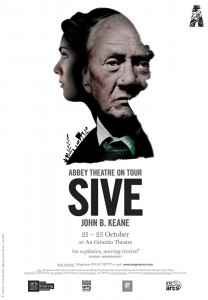 The Abbey Theatre production of John B. Keane's Sive comes to An Grianan Theatre tomorrow night. 
A dark story of greed, passion and land, this gripping new production by director Conall Morrison was enjoyed by over 30,000 people during a sell out run at the Abbey Theatre.
Now Sive returns for a major All Ireland tour.
Beautiful young Sive lives with her aunt and uncle in rural Kerry. Seán Dóta, an elderly farmer, offers the local match-maker Thomasheen Seán Rua, a large sum for her hand in marriage.
Will this be too much for her aunt and uncle to resist?
When the play opened in Walsh's Ballroom in Listowel on 2 February 1959, The Kerryman reported: "Sive was greeted with unprecedented enthusiasm. The house was full and the doors were locked half an hour before the curtain went up."
The Abbey Theatre has also provided a resource pack, with help and advice from the Keane family, which gives a background to the play including interviews and discussion notes.
It can be found at http://www.abbeytheatre.ie/resources/abbeysive/contents.htm
Sive opens onTuesday October 21st – Saturday October 25th, 8pm nightly,.
Matinees Thurs 11am and Sat 2.30pm
Tickets: €25/€20, matinees €20/€15, discounts available for group and school bookings – please contact box office.
Tags: