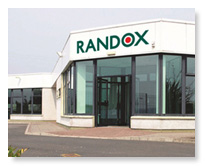 Donegal South West TDs Deputy Pearse Doherty and Deputy Thomas Pringle have both welcomed the announcement by diagnostics group Randox that it plans to create up to 540 new jobs at its Dungloe facility, 'Randox Teoranta', by 2020.
"Randox has committed itself to producing high quality and innovative diagnostic solutions and over these last thirty years, it has grown to become the success story that it is today – a world leader in in-vitro diagnostics, supplying reliable, innovative and sophisticated laboratory instruments and tests to customers in over 145 countries across the globe," said Deputy Doherty.
"Randox plays a pioneering role in laboratory medicine; the company believes that by placing a huge emphasis on research and development, it can continuously improve its existing product range and also develop innovative new ones. It's no surprise then, that Research and Development remains at the very heart of what the company does today."
"To aid this endeavour, Randox Teoranta opened their diagnostic manufacturing and research and development facility right here in Dungloe back in 2008. This was a monumental vote of confidence in both the workforce and in the community here as a whole, and today's announcement by Randox to invest significantly in its operations here in Dungloe is yet further evidence of Randox's firm belief and commitment to doing business in Donegal.
"Randox technology – researched and developed here in Ireland – continues to contribute to earlier diagnosis, more accurate treatment and better outcomes for patients, and I think it only right that today we recognise the hard work and commitment of the workers here at Randox Teoranta and I want to wish them every success both now and for the years ahead."
Deputy Pringle said: "I am delighted at the announcement of over 500 hundred jobs at Randox Teoranta, a diagnostic manufacturing and research and development facility in Dungloe, making available these highly skilled jobs by 2020, with over 60 of these to be allocated within a year.
"This morning I attended the launch of Randox Dungloe 2020 where this very positive news was officially announced and it was great to be there and witness the positive energy it has injected into the area.
"This announcement shows that sustainable jobs can be created in rural Ireland and I hope they will all be delivered within the specified time period and give the area the boost that it needs."
Tags: