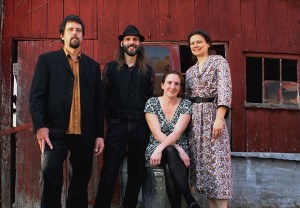 Straight from the Appalachian mountains, Virginian act Furnace Mountain will bring their own brand of distinctive take on bluegrass and folk tunes when they play at the Regional Cultural Centre.
Taking their name from the tallest peak of Catoctin Mountain in Loudoun County, Virginia, Furnace Mountain are one of the fast-rising stars of the American roots scene.
The band draws its repertoire largely from the old-time, bluegrass and folk ballad tradition and have won critical acclaim for their fresh, authentic which combines the heart-worn and effortlessly sweet vocal harmonies of Aimee Curl and Morgan Morrison with fiddle playing that evokes everything from keening bagpipes to lonesome train whistles – with some dazzling mandolin chops thrown in for good measure.
The band have performed at folk and bluegrass festivals across the globe and they are the host band of the world-famous Watermelon Park Festival each year.
Furnace Mountain, Regional Cultural Centre.
Tickets: An Grianán Theatre Box Office 074 91 20777
Price: €12/€10
Date: Saturday 1 November
Time: 8.00pm
Tags: