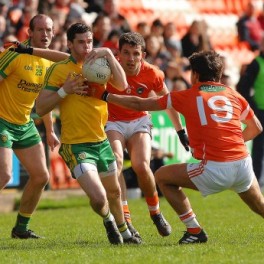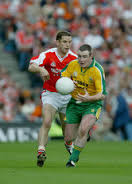 Donegal Daily got the thoughts of Charlie Collins, former county star John Gildea, current star Odhran MacNiallais and former Dungloe manager Myles Sweeney in the run-up to Sunday's Donegal SFC final between local rivals St Eunan's and Glenswilly.
The panel are siding with the 'men from the Glen' to win their third Donegal SFC title in four years.
Charlie Collins: It's going to be a real battle on Sunday, the landscape has changed dramatically since the pair last met in a county final in 2007.
It came somewhat as a surprise for Glenswilly to reach a final that year, and in the end the occasion was probably too much for them.
Fast forward seven years later, and it's a very different scenario.
Glenswilly have won two Donegal SFC titles, appeared in the Ulster final last year, and are going for their third title in just four years.
It is also worth pointing out that since St Eunan's last won the Donegal SFC title two years ago, they've lost nine players from that team.
They've managed to retain the services of Michael Martin, Eamon Doherty, Rory Kavanagh, Kevin Rafferty, Conall Dunne and John Haran, so they've plenty of experience right through the spine of their team.
But the other nine players are relatively young, with many making their first ever appearance in a senior final.
How they cope with that could have a huge bearing on the game, out of that nine, St Eunan's need at least six of those players to perform to their maximum capabilities.
Then there's the Michael Murphy factor, how do you cope with him?
Naomh Conaill did an OK job on him, but he still was the critical difference between the two sides in the end up.
It won't be a pretty game on Sunday, Glenswilly have the ability to strangle games and do enough to get over the line.
Both teams will be cautious, as obviously there is so much at stake, St Eunan's had to come out and attack last weekend after falling four points down at two different stages against St Michael's and showed tremendous character.
It's going to be very, very close, but I expect Glenswilly to edge it by a couple of points.
Charlie Collins – VERDICT – GLENSWILLY
John Gildea: I think the job Maxi Curran has done since taking over at St Eunan's has been fantastic.
He's overseen a lot of change, and I thought the rebuilding the job required at St Eunan's wouldn't have come to fruition for another couple of years.
However, they're in a final now, and they thoroughly deserve to be there.
They've played some great football this year, and have blooded some real quality young players.
I can see similarities between them and our Naomh Conaill side that won the county championship in 2005, we came in completely under the radar.
People were aware of myself, Jim McGuinness and a few others, but they'd never heard of Anthony Thompson, Leo McLoone, who were future county players.
Players that have since went on to win Ulster and All-Ireland medals.
I think St Eunan's have future county players on show right now that many people haven't heard of before, but I think Sunday might have come a bit early for them.
St Eunan's still have some very seasoned campaigners in their side, but overall the team is relatively inexperienced in contrast to Glenswilly.
Many of the Eunan's side that will start on Sunday, have never experienced playing in a Senior final before and that could have an impact on the outcome of the match, particularly if it's close, which I imagine it will be.
Glenswilly are battle hardened and every player knows their role within the team.
They're very effective in grinding out results, even when they don't play particularly well.
That's the sign of a good team, a team that can win without playing well.
They're well-organised and they're extremely hard to beat, add in the fact they've probably got the best player in the country in Michael Murphy and they're very formidable side.
Last week against Naomh Conaill, Murphy scored some incredible points, on a wet heavy pitch, he scored points that nobody else would've kicked.
It's going to be very close, it is a hard one to call, but I'm just edging towards Glenswilly because of their greater experience and the fact they have Michael Murphy on their team, he could make all the difference again on Sunday.
John Gildea – VERDICT – GLENSWILLY
Myles Sweeney: It's a really, really tough game to call, it's a really intriguing game.
You've got all the ingredients that come with a bitter local derby, it's the country team versus the town team.
You've got lads that have went to school together, grown up together, there's a lot at stake, and it's a huge game.
Glenswilly you'd have to say are the slightly more experienced side, and are bit further down the road together as a team.
St Eunan's have lost a large number of players since their last success, and are under somewhat of a transitional period you could say.
Maxi Curran has blooded some quality young players, and they have a very bright future, but not having experienced playing in a final before could count against them on Sunday.
Glenswilly have this grit and steely determination to grind out results, and do whatever it takes to get over the line.
It's small margins that win games like these, but it could come down to a break of a ball or a free late on to decide the game.
How they do cope with Michael Murphy, will Neil Gallagher dominate the middle sector of the pitch, or can St Eunan's gain the upper-hand.
It's going to be extremely close, but I'm going to tip Glenswilly to win narrowly, as they just have this uncanny ability to win close matches.
Myles Sweeney – VERDICT – GLENSWILLY
Odhran MacNiallais: I genuinely can't pick a winner between these two, I just think they're so evenly matched all over the pitch.
I think both teams possess a good balance of physicality and quality, and that's why it's so hard to pick a winner between the two.
St Eunan's have brought a lot of young players into the team, but so far they haven't been fazed, and have taken everything in their stride.
Sunday is a different proposition though, and how they handle the big occasion could be key.
Sunday is a massive occasion for both clubs, and with it being a local derby it has all the ingredients you'd want in a big match.
Both teams have match-winners that can dominate the game and play pivotal roles for their team.
It's going to very, very close, I genuinely think it will be draw at full-time, that's how tight I reckon it's going to be.
I know I'll be accused of sitting on the fence, but I'm going for a draw at full-time.
Odhran MacNiallais – VERDICT – DRAW
Tags: