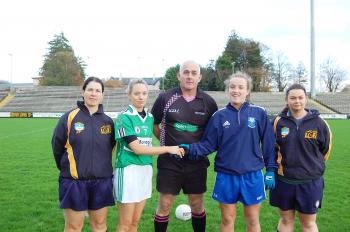 THERE is considerable anger among Ladies Football fans in Co Donegal tonight after the Ulster Council awarded the Ulster Intermediate title to Monaghan Harps earlier this evening.
The Ulster Council had refused to comment ahead of tonight's meeting at which they studied the referee's report.
Thee showpiece final in Brewster Park Enniskillen ended in farce on Sunday after Four Masters were told they had WON the game and the title.
However they were then told it was a DRAW!
Instead of extra time, the girls – Donegal's Intermediate Champions – were told there would be a replay.
But that is not going to happen.
In a statement the Ulster Ladies Gaelic officials said they had awarded the game to Monaghan Harps because they had actually WON the match!
After 60 minutes the score board read Monaghan Harps 1-8 Four Masters 2-4 however the referee scored the game as a one goal victory for Four Masters. After further consultation the game was declared a draw 1-8 to 2-5.
Four Masters Ladies may now appeal the decision.
Surely a replay would have been better for all concerned.
But as it stands, Four Masters ladies are out of a chance of going for an All Ireland title.
It seems Sunday's farce has been repeated.
In a statement Monaghan Harps Ladies insisted that they are the deserved winners of the Intermediate Ulster Club Championship title.
They describe the fact that they were not awarded the title on Sunday as an "injustice".
Tags: