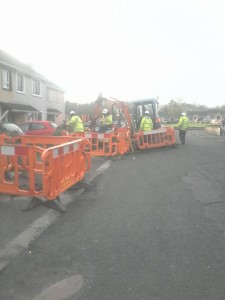 CONTRACTORS working on behalf of Irish Water have pulled out of some housing developments in Castlefinn today after protests from residents.
Some residents there were left angry on Friday night, with one family upset when they came home from work to find their driveway dug up.
No-one from the contractors had spoken to them.
In the past hour residents of several estates in the area have protested.
"I just sent them packing from Sessiagh Park," said local Cllr Gary Doherty who lives there.
"The workers say they will not instal meters for those who don't want them."
However residents in Emmet Park say their requests for meters not to be installed have been ignored.
Contractors are also in Grahamsland and Hillhead.
One angry resident there told Donegal Daily: "They won't be digging up my drive. It is my property and they do not have permission to dig up my property; simple as that."
Tags: