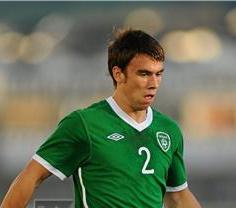 Seamus Coleman has been named in Martin O'Neil's starting XI to face Scotland at Celtic Park tonight.
Coleman missed Ireland's double-header against Gibraltar and Germany last month through injury, but the talented Killybegs right-back has been brought straight back into the team.
He'll face his Everton teammate Steven Naismith who earlier this week described Coleman as the best right-back in Europe.
Aiden McGeady who will run a gauntlet of hate tonight has also been named to start.
McGeady qualifies to represent Ireland through his Donegal heritage, his grandfather hails from Gweedore.
However, McGeady's decision to choose Ireland ahead of Scotland prompted him to become a hate figure during his time at Celtic FC.
The big surprise was O'Neil's decision to drop talisman Robbie Keane from the starting line-up.
Tags: