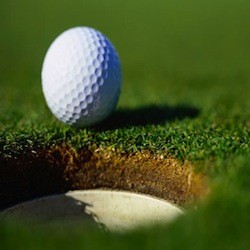 DAMIAN COMES HOME TO ROOST!
BIG HITTING MOONEY WINS NWGA @ GLASHEDY.
North Western Golfing Alliance Played Ballyliffin (Glashedy) G.C.
Saturday 15th November 2014; Par 72; SSS 72;
[report by hon. Sec. Barry Ramsay]
After all the rain during the past week and with "Orange" weather alerts for the south of the country for today, Saturday, you would have thought that you were in a different continent on the Ballyliffin course. It was a mild autumnal day with sunshine throughout and a slight breeze not hindering but just making things interesting on the back nine,
The big hitting local touring professional Damien Mooney made all the running in the Gross section and, while he is known to over-power courses with his long hitting, he had brought his finesse game today as two of his birdies came at par 3's, with five birdies in all . Damian went out in level par and returned the same score for his inward nine .The Alliance, to accommodate the Local Ladies alliance, started at the 10th hole. In this regard, Damien had a birdie to begin but promptly gave it back at the 11th. He then parred the next three, birdied the par three 14th, another par then a dropped shot at the 16th followed by a birdie at the par five 17th before rounding off this nine with a bogey .
On the front 9, [his back nine as it were], Damian again dropped an early stroke and then had back to back bogeys at fourth and fifth. He restored his equilibrium only to again bogey and then steadied himself to finish with two routine pars on what was anything but a routine round of golf.
In second place in the Gross was Noel Callan who had a similar "up and down" journey around this splendid course .Noel was one over par for his round, having had a great start when he covered his first nine in one under and was in the lead, but he had an ugly double bogey on his eleventh. He then completed the round with further pars but a birdie on the remodeled seventh was cancelled out when he bogeyed the eighth to allow Damien to beat him by one shot.
There was a familiar look to the top results in the Nett section with Maurice McGettigan from Strabane Golf Club, who was second in the last competition, moving into the top spot this time, albeit on the B.O.T. from Faughan Valley Golf Club favourite Kevin Hunter. Maurice had 21 points on the break of tie to Kevin's 20 points .Maurice's brother Odran, who was the winner of the competition three outings back, was in third position .Maurice had a very tidy card and Kevin, who had a double bogey at the third, more than compensated for it with the only eagle of the day at the par five 4th hole. .
The Gross golfer of the year for the first time in many years has a very open look about it but it would appear the brothers from Strabane Golf Club have taken a strong grip on the nett golfer of the year in which Maurice was runner up last season following Odran's win the previous year. However as the saying goes, "There many a slip twixt cup and lip". We will see how it all pans out and I am sure thatthe McGettigans' will not be taking anything for granted and will be trying all the way . A mention also of a long-standing member of the NWGA, Eamonn Davis, making a fine comeback to golf and, indeed, the prize list, following time off for recuperation from an early season illness. Eamonn's return of 38pts would have been much better only for a lapse in concentration which caused him two bogeys over the final two holes.
The next competition will take place in Rosapenna Golf Club when the prestigious St. Patrick's Plate will be on offer for thewinner .This Plate was presented to the North Western Alliance by no less a golfing superstar than the great Jack Nicholas. Jack presented the plate on behalf of the Walsh family from Carrigart .The St. Patrick's course was recently bought by the Casey family who now own St. Patrick's and the plate is competed for each season when the Alliance makes its first visit to this exciting complex.
There was a much improved attendance of members this week and hopefully that will continue to the end of the seasonalthough any one still wanting to play will be welcome as there are times available between 11am and 12 noon. Just organise a fourball and telephone 00353872488181 to book your place.
Full results as follows:
Nett Section:
1st Maurice McGettigan (17) Strabane G.C. 40 pts b.o.t.
2nd Kevin Hunter (10) Faughan Valley G.C. 40 pts
3rd Odran McGettigan (25) Strabane G.C. 39 pts
4th Eamonn Davis (11) Letterkenny G.C. 38 pts
5th Barry Ramsay (22) Letterkenny G.C. 37 pts
6th Mark Caithness (13) Dunfanaghy G.C. 36 pts b.o.t.
Gross Section:
1st Damien Mooney (scr) Ballyliffin G.C. 72
2nd Noel Callan (scr) Faughan Valley G.C. 73
3rd John G.McBride (scr) Portsalon G.C. 74
4TH Padraig MacLochlainn (5) North West G.C. 76
5TH Finnian O'Doherty (1) Letterkenny G.C. 77
6th Paul Duffy (5) Faughan Valley G.C. 79 b.o.t.
The following had "2's": K.O'Neill , B.Mac Carroll, Houston, B.Hutchman, McDermott , J.Foley, B.Corry, Paul MacLochlainn.
N.B. Next competition will be held in Rosapenna (Old Tom Morris) G.C. for the St. Patrick's Plate on Saturday 29th November 2014.
Tags: