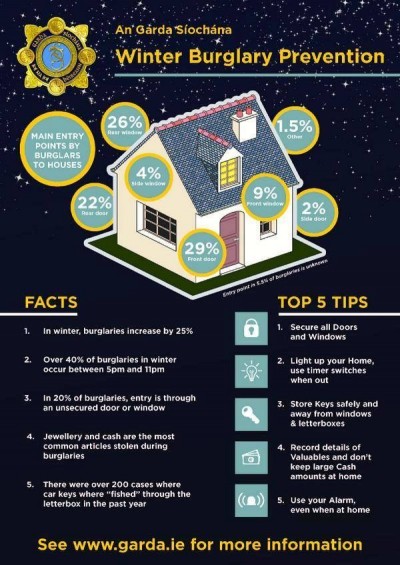 Orbit Security has been in Business for over eighteen years with thousands of satisfied customers.
There has been a recent spate of burglaries on homes and businesses in Donegal over the last number of days.
That worrying trend has prompted management at Orbit Security to outline some tips in attempting to keep your home and property secure.
• Ensure all windows and doors are locked even if your only gone a short time. In winter burglaries increase by 25%.
• Never leave keys in windows or keys in door locks.
• Light up your home use timer switches when out. Over 40% of burglaries in winter occur between 5pm and 11pm
• Monitor all targets sheds, tools; ladders may be used to break in. A useful deterrent can be an automatic light.
• Upgrade your defense with a home alarm.
• Security doesn't take a holiday always set your alarm even when you're in the house
• Don't advertise your holiday plans on social media sites
• Don't advertise valuables you just bought on social media sites
www.orbitsecurity.ie Orbit Security, Pinehill industrial estate, Mountain top, Letterkenny, Co.Donegal 074-9128989
Tags: