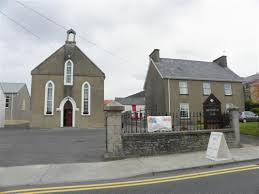 Dunkineely Community Ltd (DCL)
Mental Health and Suicide Awareness – Talks and Discussions led by Fr. James Sweeney on Thursday 27th November 2014. Time: 7:30 – 9:30pm, Venue: Dunkineely Community Ltd Offices/The Manse Dunkineely.
If you are interested and wish to come along just call the DCL Office on 074 9737678 or 087 3421922 or email us at dunkineelycommunity@gmail.com or if you wish to just come along.
Please note the talks/discussions would not be suitable for anyone who experienced a suicide in the past year as the subject would be too raw for them.
Haiti Project Fund – A Gospel Concert & Musical evening in Dunkineely Methodist Church on Friday 28th November at 8:00pm in aid of Haiti Project Fund.
All proceeds will be used to provide free health clinics to those in isolated areas, re-build a teacher training centre and provide supplies for schools, children's homes and clubs. Thank you kindly for your support.
Tir Boghaine – Are you Caring for someone at home? A support group for carers meets on the third Monday of each Month in Killybegs Hospital Day centre at 7:30 pm.
If you are coping alone or isolated by your role as a carer, why not come along to the support group.
All carers can share their knowledge and support and have opportunities to partake in training sessions.
The next meeting will take place on Monday 15th December at 7:30pm in Killybegs Hospital.
For more information contact Eileen – Tir Boghaine on 074 9733111 / 074 9733113 or Email: tirboghaine@gmail.com
Dunkineely Community Ltd (DCL) – Has a library of over 500 books from Children's Literature, Teenage Fiction (The Fault in our stars), Classics (Jane Austen – Pride and Prejudice), Horror, Comedy, Booker-Prize etc. Rent a book from just 20c.
Come into the office weekday mornings from 9:30 am – 12:30 pm and use the Internet (20c per half hour) or print or photocopy documents (20c per page).
Tags: