The Donegal Mountain Rescue team was launched over the weekend to rescue a sheep that had become stuck on a crag.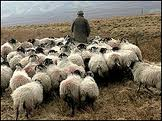 A local farmer contacted the DMT after the sheep got stuck at Barnesmore Gap.
The ISPCA had referred the farmer to DMRT to seek assistance with a rope lower.
Arrangements were made to meet with the local farmer at Biddys of Barnes this to direct Team Members to where the sheep was located.
The animal was located and taken and was successfully taken off the crag.
Tags: