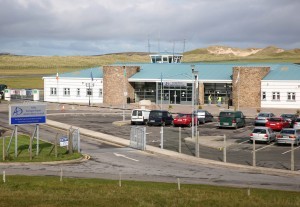 THE government subsidy of the Donegal to Dublin air route is to be continued until 2017, Transport Minister Paschal O Donohoe has announced.
The PSO – public service obligation – is designed to subsidise flights to the capital from more rural parts of the country.
Sligo and Galway have lost the subsidy in recent years.
But the Carrickfin route will continue.
Minister of State Joe McHugh told Donegal Daily: "Following an EU public tendering process, Stobart Air was successful in their application to provide air services on both the Donegal – Dublin route and the Kerry – Dublin route.
"The current contracts are due to expire on 31 January 2015 and the confirmation today that the PSO routes will continue until at least 2017, with the possibility of an additional one year extension, is a very positive one.
"This travel service plays a vital role for residents of Donegal who use the route as a commuter service. Many people fly back and forth from the UK for work purposes and depend on this service to be able to travel home at the weekends. Many others, who cannot depend on rail facilities to travel outside of Donegal, avail of the service to travel to Dublin and connects Donegal to international routes.
"Public transport services are essential to rural communities, towns and villages across the country and without a rail service in Donegal, supporting the air service is crucial to businesses, jobs and the local economy of the county. Investment is still required in on our public transport services, for example I am continuing to push for wheelchair access from Donegal to Dublin which is still not available through Bus Eireann, despite assurances that the service would be in place by now.
"However this Government's commitment to the continuation of PSOs is unquestionable and the connectivity benefits of air services to regional areas like Donegal are clearly recognised."
Tags: