Danny O Carroll ( Buster) with Liverpool and Ireland internationals Ray Houghton and Ronnie Wheelan who turned waiters along with a host of TV and sporting stars to support Danny O Carroll's Charity Christmas Party in Co Donegal in aid of Lurgybrack National School autism unit and they Paediatric Ward at Letterkenny General Hospital. Photo Brian McDaid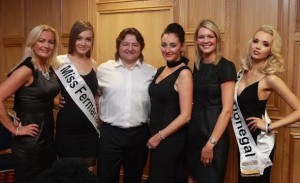 HE'S a Dub who has made Donegal his home.
And last night (and in the early hours of this morning) Danny O'Carroll got huge amounts of people to make massive donations to two Donegal charities at a wonderful Christmas dinner event at Letterkenny's Mount Errigal Hotel.
Everyone who was anyone was there.
Super soccer stars Ronnie Whelan and Ray Houghton (he kept going on about how he was a Buncrana man) joined stars from Mrs Brown's Boys, Adam (Ian Beale from Eastenders), rugby legend Shane Byrne and ex-world champ Bernard Dunne for the superb charity night.
All the money went to Letterkenny General's paediatric unit and Lurgbybrack school's autistic department.
The food was wonderful and the music was fabulous.
And everyone there enjoyed themselves.
Donegal Daily snapped up a pair of signed football boots from our own Seamus Coleman…the pair he wore when he scored against Man U (who are they?)
It was the best €800 we ever spent!
We'd like to now auction those boots to the highest bidder – with every cent going to St Vincent de Paul here in Donegal this Christmas….
Want them? email your bid to info@donegaldaily.com
Tags: