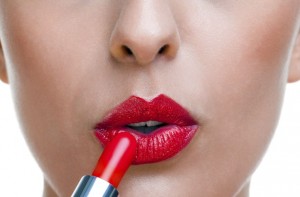 Nothing says Christmas glamour more than a bit of sparkle and a dash of red lipstick.
Everyone can wear a red lippy, the key is finding the right shade and texture for your skin tone.
If you don't know what your skin tone is just remember that fair complexions have cool skin tones with pink undertones.
Black or brown hair with warm skin tones– orangey reds, brown based reds, golden reds, tawny reds. If cool undertones, go for cherry reds, plums and burgundy's.Blonde with a warm complexion – coral reds, orange reds or copper reds. If you have a cool skin tone, plum or pink reds, light rose reds or reds with a blue undertone are for you.
Redheads with a cool complexion – blue reds, berry, plum and brick. Warm complexion -orangey, brighter shades of red.
All skin tones – true red, postbox red.
From cool, blue-toned shades to warmer tones, here are a few reds to complete your look.
1. MAC Lipstick in Ruby Woo: £15.50, €19.50 This is a show stopper red that complements all skin tones. It's extra matte, with intense colour and super long lasting. It may be a little drying- a balm on lips before applying might help. Be sure to softly exfoliate your lips and moisturise.
2. WET N' WILD MEGALAST LIP COLOR Stoplight Red 911D: £4.72, €2.99 This is a true blue-based red lipstick that has a semi-matte finish. It is lasting and looks amazing on fair complexions. A good one to try if you're experimenting with red lipstick. It looks amazing on traditional Celtic colouring.
3.Revlon Super Lustrous Lipstick in Fire & Ice: £7.49, €10.69 This was first released in 1952 and is still a bestseller. This is a vintage red and considered a neutral red. It's very moisturising and was a favourite of Elizabeth Taylor.
4. Topshop Lips in Rio Rio: £8, €12 This is an orange-toned red that complements olive and sallow skin tones. Warm and creamy in texture, it has a satin matte finish.
5. L'Oreal Paris Color Riche: £6.99, €12.29 The beauty brand has created a red lipstick collection with its Color Riche Pure Reds. The Pure Reds shades have been developed to suit all skin and hair colours, and are now being marketed using one of the L'Oreal brand ambassadors – Blake Lively, Julianne Moore, Eva Longoria and Liya Kebede – as a quick reference guide to which one will suit you.
6. NYX Butter Gloss in Cherry Pie: £5, €6.49 A soft sheer gloss, this red is slightly warmer and works beautifully on yellow-toned skin.
Tags: