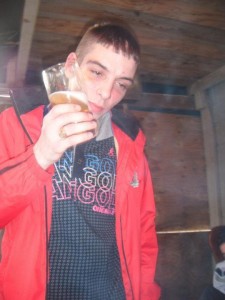 A well-known local man has failed to appear in court on serious assault charges – and is now living in Derry.
Jason Haughey allegedly stabbed a man outside a Letterkenny hotel in April 2012.
Victim Darragh Harvey, 34, was home in Donegal from America where he now lives when he was allegedly attacked by Haughey.
Mr Harvey had to be hospitalised after the incident.
Haughey was later arrested by arrangement by Gardai outside Letterkenny Courthouse.
He was however released on bail on the agreement that he sign on twice weekly at Letterkenny Garda station.
Haughey, who used to live in Kilmacrennan, was also facing charges in relation to two burglaries in Letterkenny last year in which he suffered a broken leg and extensive bruising to his face.
When the 'assault causing harm' case was called at Letterkenny Circuit Court yesterday, the court was told Haughey had not appeared.
It later emerged he is living in Derry.
Judge John O'Hagan issued a warrant for his arrest. It is the second warrant issued for his arrest.
Tags: