A faulty Christmas snowman decoration almost burned a house to the ground in Letterkenny.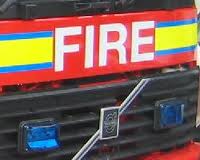 Terrified Hillary Russell is counting her blessings after escaping her home on the outskirts of the town last night.
Hillary was sitting relaxing on her sofa watching television when she noticed a burning smell.
She looked into her conservatory at her home in Carnamuggagh and it was ablaze.
Terrified Hillary, who was alone in the house around 9pm, immediately called the emergency services who were on the scene in minutes and managed to control the fire.
However a major amount of damage has been caused throughout the house with considerable smoke and scorch damage.
Windows were also cracked with the intense heat while a television was also destroyed.
Hillary, whose husband Sammy was at work at the time, revealed she had a gut feeling something was not right in her home just minutes before the blaze broke out.
"I would usually sit watching television and I would nearly always fall asleep.
"But there was fear in me on Wednesday night because something was telling me that something was not right.
"The sitting room is just off the conservatory and only for I was in there I might not have been so lucky.
"I don't want to even think about what could have happened," she said.
Hillary says she thinks the fire started after a fibre-optic snowman decoration caught fire.
"There's a lot of smoke damage and the place is destroyed but the main thing is that nobody was hurt. My husband came up the road and he could see the flames coming form the house. It was awful to watch.
"But the fire service were on the scene very quickly and they saved the house from burning to the ground.
"It looks like it was the snowman decoration which started the fire and I would ask people to make sure all their Christmas decorations are working properly.
"We are lucky but I would hate to think what would have happened if I had have fallen asleep," she said.
Family and friends have rallied around the Russells to make sure their Christmas is not ruined.
"All my family are her washing walls and cleaning up but I am still very shaken by what has happened. I realise how lucky I was.
"People have ben very good and have ben calling with all sorts of offers of help," she said.
Garda forensic officers have been at the couple's home to determine the cause of the fire.
Donegal's Acting Senior Assistant Chief Fire Officer Glenn Hamilton has issued an appeal for homeowners to be extra vigilant in the run-up to Christmas.
He told Donegal Daily "Thankfully nobody was injured in this fire last night, as the consequences could've been much worse.
"The timing of the incident helped, if the family had been in bed then it could have been really bad.
"If this alerts people now to become more vigilant and prevents any accidents then that's great.
"I'd appeal for everyone to be vigilant, if you're buying lights make sure they're manufactured with a European CE marking.
"This ensures it meets the European standard and the product can be trusted. People take a huge risk purchasing a product that doesn't have the CE symbol on it.
"Before you go to bed, ensure all appliances are turned off, and make sure smoke detectors are working and check them regularly.
"At Christmas time people have a habit of taking batteries out of detectors to use for the toys that Santa has brought and don't replace them.
"That could be potentially fatal, so just be aware, be vigilant and be safe this Christmas," he said.
Tags: