Hundreds of people are expected to attend a public meeting on proposed wind turbines for the Killygordon area.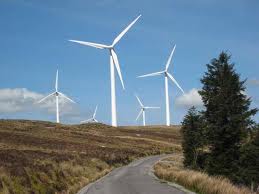 Sinn Féin Councillor Liam Doherty, has called on Minister Alan Kelly to do more to protect communities from the divisive nature of wind farm developments, stating that the interests of communities must come before those of developers.
He made his comments ahead of tonight's public meeting which has been organised by locals opposed to the planned wind farm development for Carrickduff Hill and Lismullyduff.
"As we've already seen from the recent experiences of communities such as in the Midlands – or closer to home in Glenties – Wind Farms have the potential to polarise and divide communities and I am fearful that this too may happen in the Finn Valley."
"Of course, this Government has done absolutely nothing to alleviate this situation; their inaction has allowed this debacle to fester and this is having massive implications for rural Ireland."
"Current guidelines suggest a setback distance of 500m between a turbine and a dwelling while also allowing a night time noise limit which greatly exceeds that set by the World Health Organisation as being safe for human health – the guidelines clearly need updating."
"Environment Minister Alan Kelly has said that he is reviewing current energy planning guidelines, however, when you consider that the current government has been in power since 2011, we have been waiting far too long for a review to be carried out."
"They have yet to do anything to address or correct this situation and, as we've seen, current guidelines fail to properly protect homeowners from the negative impact of these developments."
"This stalemate is dividing communities the length and breadth of Ireland, but this needn't have to be the case if the appropriate safeguards were introduced."
"Sinn Féin has been the only party to put forward a viable, coherent and practical policy with regards to the regulation of wind farms, that's why the party tabled the Wind Turbine Regulation Bill last year, which would have introduced proper zoning regulation, established minimum setback distancing as well as making it mandatory for developers to engage in consultation with the local community."
"Under the Department's current guidelines, there is no requirement for developers to sit down and participate in talks with the local community affected – that is ridiculous!"
"Our position on this is very clear: nobody is against wind energy however what people are against is being forced to live with the consequences of bad planning decisions."
"If Sinn Féin's proposals were enacted, and if the Minister implemented the measures which we had previously put forward, then the current debacle in the Finn Valley could have been avoided – he has failed the people here.
"Under our proposals, Ireland could potentially lead the way in Renewal Energy and Sustainable Development – we could be a Model of Best Practice around the world."
"In relation to the planned development for the Finn Valley, objections to planning authorities and to Minister Alan Kelly are now being prepared by the local community and I of course welcome tonight's meeting as it will enable local people to become engaged in healthy debate surrounding this issue and to have their voices heard."
"I am now calling on the Minister to give serious consideration to the various concerns of the local community here, and I would ask that he now sit down and meet with them as their concerns, as well as the concerns of other communities, may help in shaping any future Planning Guidelines."